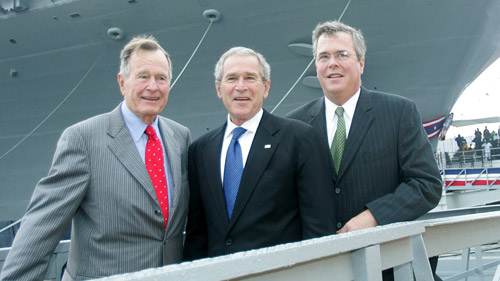 Former president George W. Bush has announced he will be working with the influential Koch Network to work with the Biden White House on measures to push mass immigration.
"We've got a coalition of like-minded people working this issue," Bush said to Trump-hating radio host Hugh Hewitt last week.
The George W. Bush Center will be pushing mass immigration as a way to cement Bush's legacy as a "compassionate conservative" and attempt to erase former President Trump's imprint on Republican politics.
"Many of them are involved on Capitol Hill. So the Bush Center is spearheading a reform movement. It's quiet except for this book [of paintings], which makes it not quiet. … We're talking to people about, you know, what needs to be done. I mean, the Koch Brothers, for example, I know that's a word [Koch] that scares a lot of people on the left, but they're very much in favor of a rational immigration policy. And they're putting money behind it, and they're pushing hard," Bush said.
Sign up for our free e-mail list to see future vaticancatholic.com videos and articles.