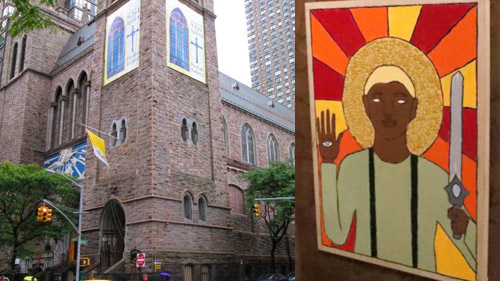 "A Catholic church in New York City has kept a highly controversial painting series in its place near the altar as the exhibit's accompanying description, which entitled the series "God is Trans[gender]: A Queer Spiritual Journey,' has been removed for an "update.'
While Daily Caller News Foundation (DCNF) previously reported that an Archdiocese of New York spokesperson said the office had been informed by the Church of Saint Paul the Apostle in Manhattan that it had removed the exhibit, Catholic News Agency (CNA) shared Monday that only the display's title and description sign has been temporarily removed while the paintings remain after the Archdiocese said it would investigate reports of the display.
Paul Snatchko, a spokesman for the Paulist Fathers, told CNA that the Paulist Fathers took the concerns of the archdiocese "very seriously' and accordingly removed the description of the paintings, naming the series "God is Transgender' and promoting the idolatrous and heretical ideas that we can make a "god' according to our own liking and that "there is no devil.'
Snatchko shared that the artist, Adah Unachukwu, a Fordham University student, and the Paulists Fathers' New York City "artist-in-residence' Father Frank Sabatté are working on a new title and description for the paintings.
According to the previously displayed description, "The painting Sacrifice … speak[s] to the need to shed an old life and personhood in order to be able to focus on your spiritual need. There is no devil. Just past selves.'
The description further explained that the painting, "Identity,' marking another "significant point' of the "queer spiritual journey,' asks, "What does holiness look like? What does your god look like? Are these two portrayals that can be merged?'
"Finally, 'Communion'…plac[es] God and the mortal on the same plane,' Unachukwu continued."
Sign up for our free e-mail list to see future vaticancatholic.com videos and articles.