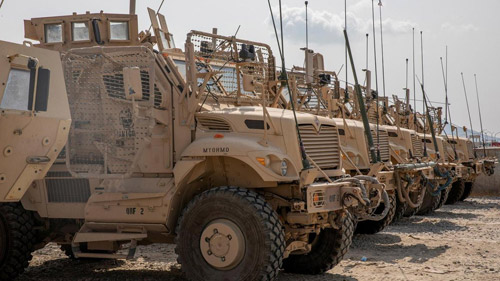 Built and trained at a two-decade cost of $83 billion, Afghan security forces collapsed so quickly and completely — in some cases without a shot fired — that the ultimate beneficiary of the American investment turned out to be the Taliban. They grabbed not only political power but also U.S.-supplied firepower — guns, ammunition, helicopters and more.
The Taliban captured an array of modern military equipment when they overran Afghan forces who failed to defend district centers. Bigger gains followed, including combat aircraft, when the Taliban rolled up provincial capitals and military bases with stunning speed, topped by capturing the biggest prize, Kabul, over the weekend.
A U.S. defense official on Monday confirmed the Taliban's sudden accumulation of U.S.-supplied Afghan equipment is enormous. The official was not authorized to discuss the matter publicly and so spoke on condition of anonymity. The reversal is an embarrassing consequence of misjudging the viability of Afghan government forces — by the U.S. military as well as intelligence agencies — which in some cases chose to surrender their vehicles and weapons rather than fight...
Of the approximately $145 billion the U.S. government spent trying to rebuild Afghanistan, about $83 billion went to developing and sustaining its army and police forces, according to the Office of the Special Inspector General for Afghanistan Reconstruction, a congressionally created watchdog that has tracked the war since 2008. The $145 billion is in addition to $837 billion the United States spent fighting the war, which began with an invasion in October 2001.
The $83 billion invested in Afghan forces over 20 years is nearly double last year's budget for the entire U.S. Marine Corps and is slightly more than what Washington budgeted last year for food stamp assistance for about 40 million Americans.
Sign up for our free e-mail list to see future vaticancatholic.com videos and articles.