A billboard criticising 'greedy politicians' faces ridicule after the campaign's central hashtag contained a glaring error.
The board was erected in Iowa in an apparent bid to persuade residents they should not support Washington's 'pointless vanity projects'. 
But the hashtag used on the poster - 'Take Back Are Country' - has been ridiculed by social media users who pointed out its grammatical inaccuracy.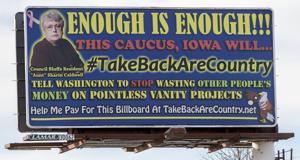 Sign up for our free e-mail list to see future vaticancatholic.com videos and articles.