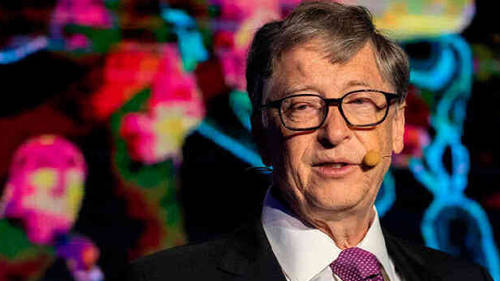 "Bill Gates recently stated on Reddit that 'digital certificates' will be used to identify who received the upcoming COVID-19 vaccine. And these certificates will also be used to identify who can conduct business or not. Here's how this plan is already backed by a massive organization called ID2020.
For years, Bill Gates has been at the forefront of research regarding global pandemics and mass vaccination campaigns. In the past decade, Gates went on record several times stating that the world was not ready for a global pandemic.
In October 2019 (only a few months before the apparition of COVID-19) the Bill and Melinda Gates Foundation (in cooperation with the World Economic Forum) hosted Event 201, a 3.5-hour table-top simulation of a global pandemic.
Oddly enough, this simulation was about a novel coronavirus that would kill millions. About eight weeks later, an actual novel coronavirus spurred in China. This lead to some people wondering if this exercise actually predicted the spread of COVID-19. In response to these questions, a statement was posted on the Event 201 website.
Statement about nCoV and our pandemic exercise
In October 2019, the Johns Hopkins Center for Health Security hosted a pandemic tabletop exercise called Event 201 with partners, the World Economic Forum and the Bill & Melinda Gates Foundation. Recently, the Center for Health Security has received questions about whether that pandemic exercise predicted the current novel coronavirus outbreak in China. To be clear, the Center for Health Security and partners did not make a prediction during our tabletop exercise. For the scenario, we modeled a fictional coronavirus pandemic, but we explicitly stated that it was not a prediction. Instead, the exercise served to highlight preparedness and response challenges that would likely arise in a very severe pandemic...
On March 13th, about a day after COVID-19 began shutting down the entire Western world, Bill Gates stepped down from the public board of Microsoft to 'dedicate more time to philanthropic priorities including global health and development, education, and climate change'. As the pandemic spread across the world, Gates became an outspoken and authoritative figure on the pandemic crisis, appearing all over mass media to share his views and recommendations.
On March 18th, Bill Gates took part in an AMA (Ask Me Anything) on Reddit titled I'm Bill Gates, co-chair of the Bill & Melinda Gates Foundation. AMA about COVID-19. where he answered questions about the pandemic. In one of his answers, Gates referred to a 'digital certificate' to keep track of who got vaccinated.
A Reddit user named RemoteControlledUser asked this question:
What changes are we going to have to make to how businesses operate to maintain our economy while providing social distancing?
Bill Gates' answer:
The question of which businesses should keep going is tricky. Certainly food supply and the health system. We still need water, electricity and the internet. Supply chains for critical things need to be maintained. Countries are still figuring out what to keep running.
Eventually we will have some digital certificates to show who has recovered or been tested recently or when we have a vaccine who has received it.
This concept of a 'digital certificate' to store medical information (including vaccines received) and to grant access to rights or services was not a mere suggestion. It is part of a massive project that is propelled by a powerful group called ID2020 which is backed by the United Nations, the Rockefeller Foundation and … Bill Gates' Microsoft.
Simply put, ID2020 is looking to create a digital identification system that would store a wealth of personal information and that would go beyond the limits of national governments. The official website of ID2020 states that a global digital identity is necessary to keep track of refugees and ID-less people in developing countries. Of course, people in developed countries would be ID-ed as well. The website states:
We Need to Get Digital ID Right
Unfortunately, current models of digital ID do not meet everyone's needs. They are generally archaic, insecure, lacking adequate privacy protection, and for over a billion people worldwide, unavailable.
Everyone should have access to a digital ID that enables them to prove who they are across institutional and international borders and across time, while giving them control over how their personal information is collected, used, and shared.
In an article published by ID2020 in 2018, vaccines are the perfect way to introduce digital identity to the world – especially infants. Appropriately titled Immunization: an entry point for digital identity, the article states:
Because immunization is conducted in infancy, providing children with a digital child health card would give them a unique, portable digital identity early in life. And as children grow, their digital child health card can be used to access secondary services, such as primary school, or ease the process of obtaining alternative credentials. Effectively the child health card becomes the first step in establishing a legal, broadly recognized identity.
In short, according to ID2020, vaccinations are the perfect opportunity to introduce a digital ID that would store the medical history of each individual. This identity would also be used to grant access to basic rights and services.
ID2020 is already testing the introduction of digital IDs in Bangladesh. On August 2019, ID2020 published a 'Request for information' article stating:
A2i and its partners Gavi and ID2020 are committed to jointly researching and implementing a unique ID for infants through digitisation of vaccination processes in Bangladesh."
Sign up for our free e-mail list to see future vaticancatholic.com videos and articles.