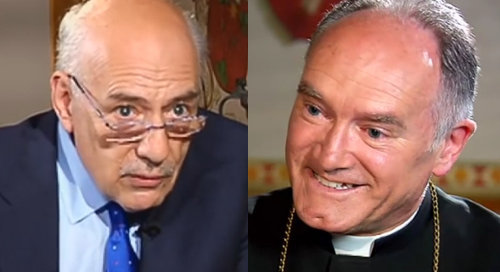 Bishop Bernard Fellay, the leader of the Society of St. Pius X (a heretical and schismatic false traditionalist group), was recently interviewed by a combative liberal journalist named Tim Sebastian.  The interview was apparently aired on international TV, which only magnifies the scandal.  You will find the video of the interview (along with further comments) below.  The interview is quite revealing.  Fellay's responses in the interview clearly demonstrate that he – just like the SSPX in general – is weak, heretical, and faithless.
The fact that Fellay is a timid heretic and schismatic of the Devil, leading a false resistance, was exposed by the challenges from Tim Sebastian.  Fellay was incapable or afraid of articulating Catholic teaching in a clear and strong way and putting the antichrist interviewer in his place.  Fellay obviously didn't want to offend his opponent or the apostates in the Vatican II sect with whom he's currently 'negotiating'.  In the interview, Fellay allowed the Jew-worshipping Sebastian to boss him around like he was a child.  It was truly pathetic.  If you can't see that Fellay is not a man of God after watching this, then you really are quite blind.  The interview speaks for itself.  However, here are a few points we found notable:
Fellay basically backs away from any criticism of the Jews, while failing to call them to conversion.  He also agrees with the statement of Federico Lombardi (the apostate director of the Vatican II sect's Press Office) that "it's impossible to speak of Jews as enemies of the Church" (1.55).  Fellay says that it was "never his intention" to label Jews as enemies of the Church, despite being on the record as previously having said that very thing.  Fellay's backtracking has to be taken as dishonest.  Fellay now claims that he really meant that the Jews consider the Church to be their enemy, not that he considered the Jews to be enemies of the Church.  Fellay also doesn't once articulate Catholic teaching that Jews and other non-Catholics are on the road to damnation and need conversion to Catholicism to be saved.  That would have been the charitable response.
Fellay basically passes on defending his society's founder, Marcel Lefebvre, from the charge of "defaming" Muslims.  In 1990 a French court convicted Lefebvre of "defamation" for criticizing Muslim immigration and saying that Muslims should return home.  Obviously Lefebvre's position on that matter was legitimate.  Instead of defending it, Fellay actually implies that Lefebvre's action was blameworthy, even if it was just a "marginal" or insignificant mistake.  Perhaps Fellay didn't want to offend non-Catholics or the apostates in the Vatican II sect by defending Lefebvre's action and identifying Islam for what it is: a totally diabolical false religion founded by a pervert and a false prophet.
Fellay allows a purely wicked, truth-hating man to repeatedly reprimand and shame him and others for having inclinations or some allegiance to Catholic Tradition.  Fellay doesn't respond in a truthful and strong way to rebuke the man whose belligerence and wickedness was screaming out for a forceful condemnation.  In short, Fellay's inability to denounce and condemn evil when it was clearly necessary was totally obvious.  It shows that he's lacking in grace, faith, goodness, spiritual strength, and charity.
Fellay is not quite sure if he repents of having been consecrated a bishop.  On that point, he says: "No, I don't think so."  Fellay isn't sure of almost anything, or he's so consumed by human respect that he can't articulate a clear and firm position on almost anything.
The totally inconsistent and contradictory position of the SSPX vis-à-vis Vatican II and the Vatican II antipopes is on display in this interview.  The interviewer correctly states that if you accept the authority of the men who promulgated Vatican II, the Council was "binding on all".  Fellay responds by stating "that's not true".  Fellay is totally wrong of course, as our material documents.  In the process of articulating his false position on Vatican II, Fellay advances a false argument about the theological note attached to Lumen Gentium which is addressed and refuted in our video: Was Vatican II Infallible? (among other things).
Fellay is repeatedly asked about the utterly wicked and monumental apostate Antipope Francis.  The interviewer gives Fellay every opportunity to denounce and condemn Francis.  However, the wicked and faithless Fellay shies away from almost all criticism of Francis, and certainly from any condemnation of him – despite the fact that Francis is one of the most heretical and disgusting individuals to have ever walked on Earth.  Antipope Francis is a notorious heretic and apostate who teaches massive heresies weekly.  Francis is leading countless people into heresy and into Hell.  Yet, Fellay does not condemn him, and he barely criticizes him.  Keep in mind, however, that while Fellay is so lacking in grace and faith that he can't condemn Francis, he does endorse public attacks on true Catholics who hold the sedevacantist position.  With his full support, Fellay's group recently published an error-ridden, lie-filled book that denounces sedevacantism as "diabolical", "evil", "heretical", "a sect"; but Fellay cannot utter a few words in condemnation of the notorious Antipope Francis.  That tells you quite a bit about Fellay: he's of the Devil.  That's why he puts his energy and name behind attacking the true Catholic position, but he is incapable of condemning real evil: the heretic Antipope Francis.
Fellay is asked about "Christians" being persecuted around the world.  He says that "we suffer with them".  However, he fails to distinguish between Catholics and heretics who falsely claim to be Christians.  Perhaps he feared Sebastian's condemnations if he did so.
Fellay articulates the position of the Vatican II sect on homosexuality.  Fellay states that having homosexual tendencies (i.e. being 'gay') does not mean that a person is bad, if the person doesn't engage in homosexual acts.  He thereby contradicts Scripture, which teaches that the unnatural inclinations are the result of apostasy and sin.  Fellay even seems to agree with the interviewer that homosexuality is a kind of legitimate "sexual orientation" (20.01).  No, it's a demonic perversion.
At around the 24 minute mark, the interviewer asks Fellay about "talking with other religions".  Coming from the mouth of someone like Sebastian, that question obviously refers to or includes false ecumenism, interreligious dialogue, etc. in the style of the Vatican II sect.  In response, Fellay offered no condemnation of false ecumenism, interreligious dialogue or anything of the sort.  He didn't articulate the necessity to be Catholic or condemn religious indifferentism at all.  Instead, he stated that he does talk with other religions, but "discreetly".  Fellay added that he has Jewish "friends", and there's "no problem" in that regard.  His response can easily be taken to mean that he accepts, on some level, false ecumenism and interreligious dialogue with Jews and members of other religions.  His words might also imply that Fellay doesn't condemn the false religions in question, or hold that their members are on the road to Hell.  As our material documents, Fellay does in fact believe that Hindus, Jews, Buddhists, etc. can be saved without the Catholic faith.  That is heresy.  It denies the dogma Outside the Catholic Church There is No Salvation.  That's the position of the SSPX, as our material documents.  Fellay doesn't have the Catholic faith, and he doesn't profess the Catholic faith.
We found this to be particularly embarrassing: the aggressive and demonic Sebastian queried the pathetic Fellay about the sexual abuse scandal among the apostate 'bishops' and 'priests' in the Vatican II sect.  Sebastian wanted to get Fellay to submit, to bow before him in shame.  It was symbolic of getting a 'Catholic' to bow before the representatives of the world and the Jews.  Sebastian thus pressed Fellay, demanding: "do you hang your head in shame?" (21.20)  Sebastian wanted Fellay to acknowledge that he is and should be ashamed of himself.  Not wishing to displease the antichrist, Fellay responded by affirming that he does hang his head in shame.  Fellay's timidity and submission to the non-Catholic was pathetic and outrageous.  Fellay does not represent the Church militant, which does not bow in defeat before Satan and his minions.
Certainly there's nothing wrong with smiling when it's warranted or natural, but Fellay's need to almost constantly smile, including in the face of lies, outrageous misrepresentations and devilish attacks, reveals that he's a fake, a phony, and insincere.  He doesn't hate evil, and therefore he can't love God.  He's desperate to please men and be accepted by them, and that's why he doesn't please God or receive the grace to believe.
John 5:44- "How can you believe, when you receive glory from one another and do not seek the glory that comes from the only God?"
The fact that such a pathetic individual leads the Society of St. Pius X tells you quite a bit about their heretical group.
Finally, it's not just a coincidence that God allowed this interview, which exposes Fellay for what he really is, to occur at this time.  It was providential.  God allowed Fellay to be exposed as the timid, faithless, people-pleasing apostate that he is at this time because Fellay very recently put his name behind an attack on true Catholics such as ourselves.  He attacked the true faith, the salvation dogma, and the sedevacantist position (as mentioned above).  That's also discussed in this video: Epic Blunder in New SSPX Book (New Rite of Ordination)
Since Fellay very recently associated himself with that attack on true Catholics and the true faith, God allowed Fellay to be exposed before the world for what he is: weak, heretical, and of the Devil.  He is incapable of professing the faith, in a clear and charitable way, in the face of the Church's enemies.  That's because he's not a member of the Church, and he doesn't have the true faith.
SOME MORE MATERIALS ON THE HERETICAL SSPX:
The Truth About The SSPX, The SSPX-MC, And Similar Groups (video)
The Society of St. Pius X (section)
Sign up for our free e-mail list to see future vaticancatholic.com videos and articles.