By Bro. Michael Dimond, O.S.B.
Read more of Benedict XVI's Recent Heresies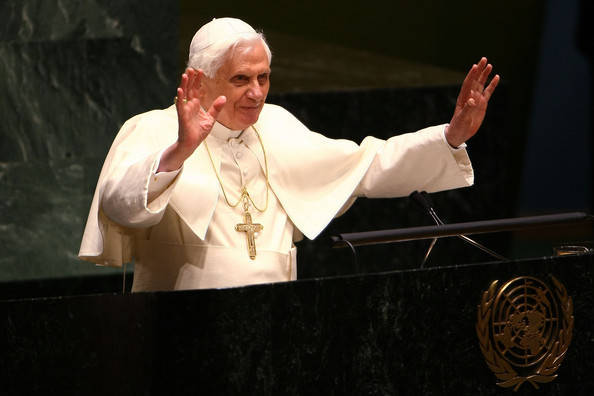 Benedict XVI, Address at the UN, to the representatives of the Member Nations, April 18, 2008: "The United Nations embodies the aspiration for a greater degree of international ordering… through binding international rules and through harmonizing the day-to-day unfolding of the lives of peoples… If States are unable to guarantee such protection, the international community must intervene with the juridical means provided in the United Nations Charter and in other international instruments… The activity of the United Nations in recent years has ensured that public debate gives space to viewpoints inspired by a religious vision in all its dimensions, including ritual, worship, education, dissemination of information, and the freedom to profess and choose religion. It is inconceivable, then, that believers should have to suppress a part of themselves – their faith – in order to be active citizens. It should never be necessary to deny God in order to enjoy one's rights… The full guarantee of religious liberty cannot be limited to the free exercise of worship, but has to give due consideration to the public dimension of religion, and hence, to the possibility of believers playing their part in building the social order… My presence at this Assembly is a sign of esteem for the United Nations, and it is intended to express the hope that the Organization will increasingly serve as a sign of unity between States and an instrument of service to the entire human family… That is why the Church is happy to be associated with the activity of this distinguished Organization, charged with the responsibility of promoting peace and good will throughout the earth. Dear friends, I thank you for this opportunity to address you today, and I promise you of the support of my prayers as you pursue your noble task. " (L' Osservatore Romano, April 23, 2008, pp. 12-13.)
First, Benedict XVI appears to be promoting a New World Order under the UN established "through binding international rules." Second, he promotes the heretical idea that people should be able to choose any religion and promote that false religion publicly in all ways. Third, he basically states that if members of false religions are deprived of their right to publicly propagate their false religion it would be to "deny God." This means that Benedict views the practice of false religions as worshipping the true God. Fourth, he again promotes the heresy of religious liberty. Fifth, he says that he has "esteem for the United Nations." This is also heresy because the UN is officially involved in promoting sex education; it actively distributes condoms and other contraceptive devices for men and women. This means that Benedict XVI esteems sex education and contraception. Sixth, he says that the Church is associated with the activity of the UN, and that the UN's task is "noble." See the links below from the UN's official website and from others on how the UN actively promotes population control, contraception, etc.
"… UNICEF has increasingly pushed controversial sex education among children, population control and abortion programs that risk alienating beneficiaries in developing Christian, Muslim and traditional societies. This trend was codified in the 1998 declaration in Geneva of a partnership of the Children's Fund, World Health Organization and UN Fund for Population Activities (UNFPA). That partnership -- the Co-ordinating Committee on Health -- aligned UNICEF with UNFPA's major partner agency, International Planned Parenthood, which ranks second only to the Chinese government in the volume of abortions it provides." (See http://www.lifesitenews.com/ldn/2002/oct/021030a.html)

"… the PRI says that through a September investigation in China at the family planning facilities, the UNFPA sat back and watched its Chinese counterparts enforce the very situations it claims to avoid.

"We located the family planning offices, and in that family planning office, we located the UNFPA office, and we confirmed from family planning officials there that there is no distinction between what the UNFPA does and what the Chinese Family Planning Office does," said Scott Weinberg, spokesman for PRI."(See http://archive.newsmax.com/archives/articles/2001/10/18/204424.shtml)
The UN gave China its first UN Population Award in 1983 "for the most outstanding contribution to the awareness of population questions." In 1983, the Beijing Review reported China's family planning minister as saying that his award was "a symbol of UN support and encouragement for China's family planning program."
Nor does the UNFPA's support go unnoticed by those whose rights are violated. Renowned Chinese dissident Wei Jingsheng testified on this before Congress on February 3, 1998.
"… the Chinese people have a very serious view of all U.N. activities in China in the field of population control. ... When the United Nations gave the Chinese government population control award, the Chinese people were flabbergasted. They were asking, is the U.N. on the side of the Chinese government? And so the Chinese people have a very negative image of the U.N. organization in this field." (See http://www.nrlc.org/news/1999/NRL399/chris.htm)
An example of how the UN supports abortion: http://www.zenit.org/article-21020?l=english
The UN Population Fund (UNFPA) is actively involved in supporting and actively distributing condoms and other contraceptive devices. (See http://www.unfpa.org/hiv/programming.htm)
"In an effort to fight these meaningless deaths, UNFPA, the United Nations High Commissioner for Refugees (UNHCR) and the International Federation of the Red Cross in 1996 looked at the reproductive health needs of refugees from Rwanda, Burundi and Zaire in the Great Lakes regions of Central Africa. As a result, about 220,000 displaced women of child-bearing age received a package of reproductive health care services together with other emergency supplies." (See http://www.un.org/geninfo/faq/factsheets/FS6.HTM)

"In mid-April of 1999, the United Nations Population Fund (UNFPA) and the International Planned Parenthood Federation (IPPF) announced emergency shipments of reproductive health services to Kosovar refugees. …The list of reproductive health supplies sent to 350,000 Kosovar refugees included an oral contraception kit, a sexually transmitted disease kit, intrauterine devices (IUDs), a "complications from abortions" kit, and condoms. The kits also contained emergency contraception pills that prevent a fertilized egg from implanting in the uterus. Critics charge that UNFPA promotes abortion in refugee camps, which are among the most unsanitary and dangerous places on earth. "It is outrageous that they are not providing basic health services for these people," said Jeanne Head, chief UN lobbyist for International Right to Life Federation. "Basic things, like clean water. UNFPA seems to be obsessed with preventing people from having children." (http://en.wikipedia.org/wiki/United_Nations_Population_Fund)
Sign up for our free e-mail list to see future vaticancatholic.com videos and articles.