By Bro. Michael Dimond, O.S.B.
Read more of Benedict XVI's Recent Heresies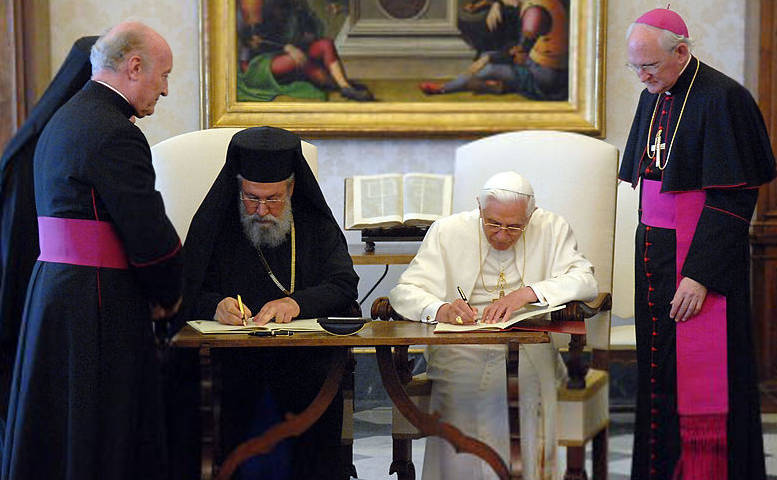 Common Declaration of Benedict XVI with Orthodox "H.B." Chrysostomos II, June 16, 2007: "We, Benedict XVI, Pope and Bishop of Rome, and Chrysostomos II, Archbishop of Nea Justiniana and All Cyprus... we assure our faithful of our fervent prayers as Pastors in the Church... among the human rights to be safeguarded, freedom of religion should be at the top of the list. Failure to respect this right constitutes a very serious offence to the dignity of the human being, who is struck deep within his heart where God dwells. Consequently, to profane, destroy or sack the places of worship of any religion is an act against humanity and the civilization of the peoples.
            "The rich patrimony of faith and the solid Christian tradition of our lands should spur Catholics and Orthodox to a renewed impetus in proclaiming the Gospel in our age, in being faithful to our Christian vocation and in responding to the demands of the contemporary world." (L'Osservatore Romano, July 4, 2007, pp. 6-7.)
In a common declaration, Benedict XVI states that an openly schismatic "archbishop" is a pastor in the Church of Christ. This completely rejects the Catholic dogmas on the Papacy and the Church. We covered in our The Heresies of Benedict XVI that last fall Benedict XVI told the schismatic "Orthodox" Patriarch of Constantinople that he was a pastor "in the Church of Christ." As we mentioned then, this particular heresy is arguably Benedict XVI's worst and most indefensible. Use it against any defender of Antipope Benedict XVI. For this proves that he holds that one can reject the Papacy, and even lead a sect full of Papacy-rejecters, and be in the Church. It is, once again, absolute and total proof that Benedict XVI is a heretic and that anyone who defends him obstinately is also a heretic and a schismatic; for if they affirm that they are in the same Church as Benedict XVI (which they must if they think he's the pope), then they must affirm that they are in the same Church as the leading schismatics in the world, since Benedict XVI has declared in public common declarations that he's in the same Church as these schismatic leaders and that they are even pastors in the Church!
Second, Benedict XVI says that freedom to believe whatever you want is at the top of the list of rights that need to be safeguarded. Third, he says that Catholics and "Orthodox" need to be faithful to their Christian vocation. This means that he has absolutely no problem with people rejecting Catholic teaching, and to do so is to be a faithful Christian.   Here's another heretical statement Benedict XVI recently made to this schismatic:
Benedict XVI, Address, June 16, 2007, to "H.B." Chrysostomos II, "Orthodox Archbishop of Nea Justiniana and All Cyprus": "For this reason, Your Beatitude, in following in the footsteps of the Apostle to the Gentiles, you did not come from Cyprus to Rome merely for an 'exchange of ecumenical courtesy', but rather to reaffirm your firm decision to persevere in praying to the Lord to show us how to achieve full communion... In you, I greet the Pastor of an ancient and illustrious Church, a shining tessera of that bright mosaic, the East... Your appreciated presence reminds me of the fervent preaching of St. Paul in Cyprus." (L'Osservatore Romano, July 4, 2007, p. 6.)
Benedict XVI says that the schismatic can "show us how to achieve full communion." He also says that he is the Archbishop of all of Cyprus, as if he is the legitimate ordinary of that territory. He goes on to say that his presence reminds him of St. Paul. Benedict XVI is a total heretic and a schismatic.
Sign up for our free e-mail list to see future vaticancatholic.com videos and articles.