By Bro. Michael Dimond, O.S.B.
Read more of Benedict XVI's Recent Heresies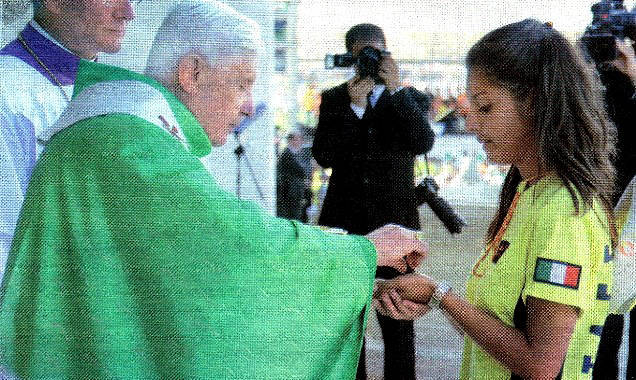 Benedict XVI giving "Communion" in the hand
Benedict XVI, Post-Synodal Apostolic Exhortation on the Eucharist, February 22, 2007. In point #56, Benedict XVI repeats the post-Vatican II sect's teaching on giving the sacraments to non- Catholics: "56… individual non-Catholic Christians can be admitted to the Eucharist, the Sacrament of Reconciliation and the Anointing of the Sick."[1]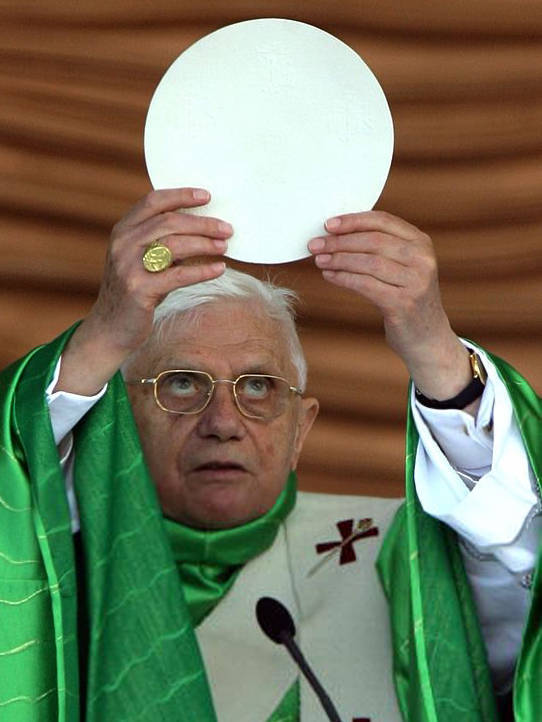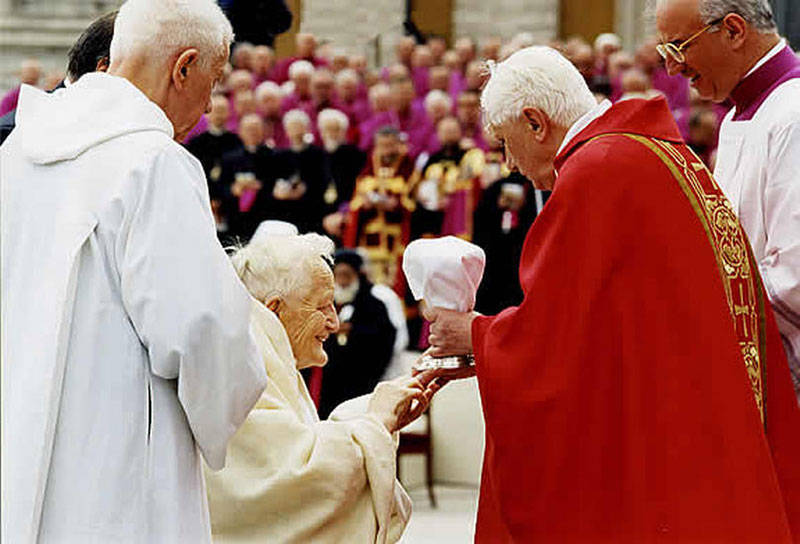 Picture of Benedict XVI giving "Communion" in the hand to Bro. Roger
Then in point #87 he uttered the following heresy, "I would like to reaffirm the solidarity of the whole Church with those who are denied freedom of worship. As we know, wherever religious freedom is lacking, people lack the most meaningful freedom of all, since it is through faith that men and women express their deepest decision about the ultimate meaning of their lives. Let us pray therefore, for greater religious freedom in every nation, so that Christians, as well as the followers of other religions, can freely express their convictions, both as individuals and as communities."[2]
First, Benedict XVI mentions that Holy Communion and the other sacraments can be given to non-Catholics. This is a condemned heresy. Benedict XVI not only teaches this heresy, but he has also committed this heresy by giving "Communion" to Bro. Roger Schutz. Bro. Roger was a Protestant and the founder of an ecumenical "monastery." Pope Pius IX stated that non-Catholics receive Holy Communion to their condemnation because they are heretics and schismatics. Pope Boniface VIII, in his bull Unam Sanctam, taught infallibly that there is "no salvation nor remission of sin outside the Church." Benedict XVI then asks us to pray for more religious freedom for everyone, including members of false religions. This is to teach exactly the opposite of numerous popes on this issue.
Pope Pius IX, Syllabus of Errors, # 78: "Hence in certain regions of Catholic name, it has been laudably sanctioned by law that men immigrating there be allowed to have public exercises of any form of worship of their own." – Condemned.

Pope Gregory XVI, Inter Praecipuas (# 14), May 8, 1844: "Experience shows that there is no more direct way of alienating the populace from fidelity and obedience to their leaders than through that indifference to religion propagated by the sect members under the name of religious liberty."

Pope Leo XIII, Custodi di Quella Fede (#15), Dec. 8, 1892: "Everyone should avoid familiarity or friendship with anyone suspected of belonging to masonry or to affiliated groups. Know them by their fruits and avoid them. Every familiarity should be avoided, not only with those impious libertines who openly promote the character of the sect, but also with those who hide under the mask of universal tolerance, respect for all religions..."

Pope Pius IX, Quanta Cura (#'s 3-6), Dec. 8, 1864, ex cathedra: "From which totally false idea of social government they do not fear to foster that erroneous opinion, most fatal in its effects on the Catholic Church and the salvation of souls, called by Our predecessor, Gregory XVI, an insanity, NAMELY, THAT 'LIBERTY OF CONSCIENCE AND WORSHIP IS EACH MAN'S PERSONAL RIGHT, WHICH OUGHT TO BE LEGALLY PROCLAIMED AND ASSERTED IN EVERY RIGHTLY CONSTITUTED SOCIETY; and that a right resides in the citizens to an absolute liberty, which should be restrained by no authority whether ecclesiastical or civil, WHEREBY THEY MAY BE ABLE OPENLY AND PUBLICLY TO MANIFEST AND DECLARE ANY OF THEIR IDEAS WHATEVER, EITHER BY WORD OF MOUTH, BY THE PRESS, OR IN ANY OTHER WAY. But while they rashly affirm this, they do not understand and note that they are preaching liberty of perdition… Therefore, BY OUR APOSTOLIC AUTHORITY, WE REPROBATE, PROSCRIBE, AND CONDEMN ALL THE SINGULAR AND EVIL OPINIONS AND DOCTRINES SPECIALLY MENTIONED IN THIS LETTER, AND WILL AND COMMAND THAT THEY BE THOROUGHLY HELD BY ALL THE CHILDREN OF THE CATHOLIC CHURCH AS REPROBATED, PROSCRIBED AND CONDEMNED." (Denz. 1690; 1699)
Notes:
[1] L'Osservatore Romano, March 21, 2007, insert XI.
[2] L'Osservatore Romano, March 21, 2007, insert XVI.
Sign up for our free e-mail list to see future vaticancatholic.com videos and articles.