By Bro. Michael Dimond, O.S.B.
Read more of Benedict XVI's Recent Heresies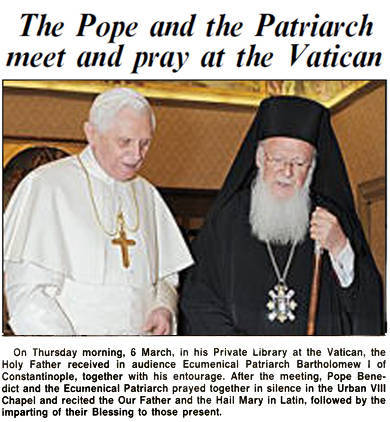 L'Osservatore Romano, March 12, 2008, p. 3.
"On Thursday morning, 6 March, in his Private Library at the Vatican, the Holy Father received in audience Ecumenical Patriarch Bartholomew I of Constantinople, together with his entourage.  After the meeting, Pope Benedict and the Ecumenical Patriarch prayed together in silence in the Urban VIII Chapel and recited the Our Father and the Hail Mary in Latin, followed by the imparting of their Blessing to those present."
This is forbidden by Catholic teaching.
Sign up for our free e-mail list to see future vaticancatholic.com videos and articles.