By Bro. Michael Dimond, O.S.B.
Read more of Benedict XVI's Recent Heresies
Benedict XVI, Address to Foundation for Interreligious and Intercultural Dialogue, Feb. 1, 2007: "… the first result of your work: a joint edition of the three Sacred Books of the three monotheistic religions in their original language and in chronological order… we, Jews, Christians and Muslims are called to develop the bonds that unite us… Thus, you have produced this beautiful edition of the three books which are the source of our religious beliefs, creators of culture, that have made a deep mark on peoples and to which we are indebted today. The reinterpretation, and for some people, the discovery of texts that so many people across the world venerate as sacred, demands mutual respect in trusting dialogue.
"… a common task of reflection. This is a labor of reason for which I wholeheartedly appeal, with you, to be able to examine God's mystery in the light of our respective religious traditions and wisdom so as to discern the values likely to illumine the men and women of all the peoples on earth, whatever their culture and religion…. Thus, we will be able to make headway in interreligious and intercultural dialogue which today is more necessary than ever: a true dialogue, respectful of differences, courageous, patient and persevering, which finds its strength in prayer and is nourished by the hope that dwells in all who believe in God and put their trust in him." (L'Osservatore Romano, Feb. 7, 2007, p. 5)
In a speech to the Foundation for Interreligious and Intercultural Dialogue, Benedict XVI speaks of a set of books it has published. This set contains, as Benedict XVI says, "the three Sacred Books of the three monotheistic religions in their original language and in chronological order." In other words, this set (which Benedict XVI is praising) contains the "Hebrew Bible," the New Testament and the Muslim Koran (which denies the Divinity of Christ and blasphemes the Holy Trinity). Benedict XVI speaks positively of all of these books, and says we are "indebted" to them.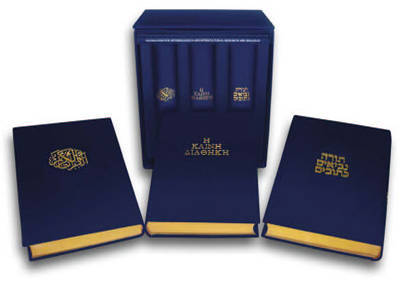 Here is a picture and description of the books contained in this ecumenical volume, which Benedict XVI praised and said we are indebted to.  Think about the fact that Benedict XVI said that we are indebted to the Koran! Think about the fact that he praised a newly published set of books which promotes the Muslim Koran! This is, of course, total apostasy. Once again, this is equivalent to kissing the Koran in words.
In fact, as we can see from this link above, Benedict XVI's representatives (with his full approval) are part of the board which oversees the distribution of this set of books, which includes the Koran. Thus, it's accurate to say that Benedict XVI participates in the distribution of the Koran!
As we can see above, he also made numerous other statements which express complete religious indifferentism and ecumenical apostasy. He says that "our respective religious traditions" can illumine all the peoples of Earth, whatever their religion. He also says that hope dwells in all who believe in God; in other words, there is no need to accept Christ.
Sign up for our free e-mail list to see future vaticancatholic.com videos and articles.