By Bro. Michael Dimond, O.S.B.
Read more of Benedict XVI's Recent Heresies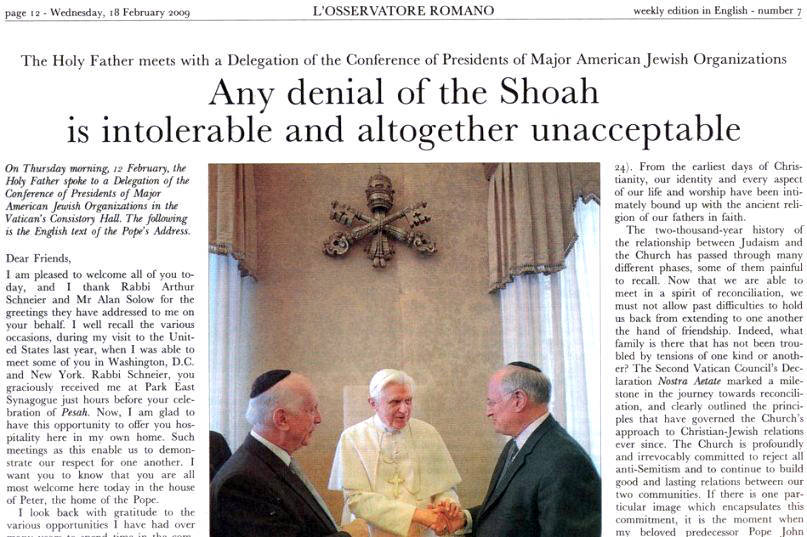 Note from the Secretary of State of the Vatican, February 4, 2009: "In the wake of reactions to the recent Decree of the Congregation for Bishops by which the excommunication of four prelates of the Society of Saint Pius X was remitted, and with regard to the negationist or reductionist statements made by Bishop Williamson concerning the Shoah, it seems opportune to clarify some aspects of the matter… The remission of the excommunication has freed the four bishops from a very serious canonical penalty, but it has not changed the juridical status of the Society of Saint Pius X, which presently does not enjoy any canonical recognition by the Catholic Church. The four bishops, even though they have been released from excommunication, have no canonical function in the Church and do not licitly exercise any ministry within it.

"2. Tradition, Doctrine and the Second Vatican Council-

A full recognition of the Second Vatican Council and the Magisterium of Popes XXIII, Paul VI, John Paul I, John Paul II and Benedict XVI himself is an indispensable condition for any future recognition of the Society of Saint Pius X…

"3. Statements about the Shoah-

The positions of Bishop Williamson with regard to the Shoah are absolutely unacceptable and firmly rejected by the Holy Father, as he himself remarked on 28 January 2009 when, with reference to the heinous genocide, he reiterated his full and unquestionable solidarity with our brothers and sisters who received the First Covenant, and he affirmed that the memory of that terrible genocide must lead "humanity to reflect upon the unfathomable power of evil when it conquers the heart of man", adding that the Shoah remains "a warning for all against forgetfulness, denial or reductionism, because violence against one single human being is violence against all". In order to be admitted to function as a Bishop within the Church, Bishop Williamson must also distance himself in an absolutely unequivocal and public way from his positions regarding the Shoah, which were unknown to the Holy Father at the time of the remission of the excommunication."[1]
This note is an important statement by the Vatican on the status of the SSPX. This note from the Secretary of State of the Vatican declares that the SSPX's juridical status is that it "presently does not enjoy any canonical recognition by the Catholic Church." He goes on to state that they "have no canonical function and do not licitly exercise any ministry" within the Catholic Church.
Most of the people who go to the SSPX for the sacraments seem to believe that because the SSPX believes that Benedict XVI is a valid pope, they are not in schism for going there. This is completely wrong, and proven wrong by the clear statements above on how the SSPX is looked at by Benedict XVI and the Vatican. The note also mentions that, in order to be a Catholic, you have to accept the teachings of Vatican II, many of which are still not accepted by the SSPX. Finally, the apostate Vatican declares that to be a Catholic you cannot deny or minimize "the Holocaust." What a complete joke of a "Catholic Church." This is a "Church" that binds you to accept the Jewish version of history in order to be accepted as a Catholic!
Anyone who sees and understands these facts, and still thinks that Benedict XVI and the Vatican are Catholic, is a heretic. This note states at the end that Benedict XVI did not know that Bishop Williamson denied "the holocaust" at the time he removed the "excommunication" against him. This note clearly implies that Benedict XVI never would have removed the "excommunication" against Williamson if he had known that Bishop Williamson is a Holocaust denier. To think that Benedict XVI has bound someone to believe what the Jews think happened during World War II, in order for that person to be admitted to full communion with his sect, is amazing. But of course, the apostates at the Vatican, who worship and serve the Jews, do bind people to Jewish ideas. And fact that the Jews reject God Himself means absolutely nothing to the pack of usurping apostates who sit in the Vatican. They are nothing more than an abomination to Jesus Christ.
In a private meeting with Benedict XVI on February 12, 2009, Rabbi Arthur Schneier gave the following address: "As a Holocaust survivor, these days have been painful and difficult days when confronted with Holocaust denial by no less than a bishop of the Society of St. Pius X… Victims of the Holocaust have not given us the right to forgive the perpetrators nor the Holocaust deniers. Thank you for understanding our pain and anguish and your firm statement expressing "unquestioned solidarity" with the Jewish people and condemning Holocaust denial. In our autumn years, we must transmit "never again" through Holocaust education to future generations. Holocaust education can be a call to conscience and awaken us from our slumber of indifference to the threat of genocide in our own day. Your Holiness, through the guidelines of Nostra Aetate, we have been able to heal the wounds of the past and effect reconciliation between the Church and the Jewish people. Your personal commitment and that of Pope John Paul II, of blessed memory, to "embrace the older brother" has given us further encouragement to build even closer ties between Catholics and Jews all over the world… Our relationship, based upon the solid foundation of Vatican II, can overcome periodic setbacks." [2]
The rabbi calls for Benedict XVI to promote "Holocaust education" to future generations. The rabbi also speaks of the solid foundation of Vatican II. When a rabbi calls a so-called council of the Catholic Church "a solid foundation," you can know for sure that it was not a real Catholic council.
After Rabbi Schneier's address, Alan Solow, President of the Conference of Major American Jewish Organizations, addressed Benedict XVI: "We recall your important and historic visit to the synagogue in Cologne and to the Auschwitz-Birkenau death camps. Recent events have strained the Church and the Jewish community. The demand, by the Holy See, that Bishop Williamson renounce his abhorrent Holocaust denial, which the US Conference of Catholic Bishops denounced as "utterly false", was a welcomed step. It must be made clear again and again that there can be and will be no tolerance for any form of Holocaust denial. We note, with appreciation, the position against anti-Semitism taken by the Holy See, that any attack on Jews or Judaism is an attack on the Church and your Holiness' statement… We welcome and appreciate your Holiness' planned visit to Israel. The people and leaders of Israel are anxiously looking forward to it, as are we. The Holy Land holds great significance for both of our faiths. For the Jewish people, our past, present and future are intertwined with this sacred land promised to our forefathers millennia ago, as confirmed in Nostra Aetate – the covenant between God and the Jewish people is eternal. The increasing efforts to demonize and delegitimize the State of Israel are cause of great concern. It is our hope that the reaffirmation of the principle and provisions embodied in Nostra Aetate will send a clear message of the Church's positions, rooted in its religious and moral foundation."
Jew Alan Solow correctly points out that "the Holy See" demanded that Bishop Williamson renounce his position on "the Holocaust"; otherwise he will not be accepted as a "Catholic." He forcefully says to Benedict XVI that: "It must be made clear again and again there can and will be no tolerance for any form of Holocaust denial." He then goes on to utter an incredibly outrageous heresy by stating that "any attack on the Jews or Judaism is an attack on the Church…" We will see below that Benedict XVI had no objection to this outrageous heresy. He also said that Vatican II's document Nostra Aetate confirmed that the Jewish covenant with God is eternal. (It's a dogma that the Old Covenant was revoked by God.)
Benedict XVI's February 12, 2009 Address to the Delegation of the Conference of Presidents of Major American Jewish Organizations: "Dear Friends, I am pleased to welcome all of you today, and I thank Rabbi Arthur Schneier and Mr. Alan Solow for the greetings they have addressed to me on your behalf… Rabbi Schneier, you graciously received me at Park East Synagogue just hours before the celebration of Pesah. Now, I am glad to have an opportunity to offer you hospitality here in my own home. Such meetings as this enable us to demonstrate our respect for one another… I look back with gratitude to the various opportunities I have had over many years to spend time in the company of my Jewish friends. My visits to your communities in Washington and New York, though brief, were experiences of fraternal esteem and sincere friendship. So too was my visit to the Synagogue in Cologne, the first such visit in my Pontificate. It was very moving for me to spend those moments with the Jewish community in the city I know so well, the home to the earliest Jewish settlement in Germany, its roots reaching back to the time of the Roman Empire. A year later, in May 2006, I visited the extermination camp at Auschwitz-Birkenau. What words can adequately convey that profoundly moving experience? As I walked through the entrance to that place of horror, the scene of such untold suffering, I meditated on the countless number of prisoners, so many of them Jews, who had trodden that same path into captivity at Auschwitz and in all the other prison camps. Those children of Abraham, grief-stricken and degraded, had little to sustain them beyond faith in the God of their fathers, a faith that we Christians share with you, our brothers and sisters… From the earliest days of Christianity, our identity and every aspect of our life and worship have been intimately bound up with the ancient religion of our fathers in the faith… John Paul II stood at the Western Wall in Jerusalem, pleading for God's forgiveness after all the injustice that the Jewish people have had to suffer. I now make this prayer my own: "God of our fathers, you chose Abraham and his descendents to bring your Name to the Nations: we are deeply saddened by the behavior of those who in the course of history have caused these children of yours to suffer, and asking your forgiveness we wish to commit ourselves to genuine brotherhood with the people of the covenant" (26 March 2000)… It is beyond question that any denial or minimization of this terrible crime [the "Shoah"] is intolerable and altogether unacceptable. Recently, in a public audience, I reaffirmed that the Shoah must be "a warning for all against forgetfulness, denial or reductionism, because violence committed against one single human being is violence against all" (28 January 2009)…. It is my fervent prayer that the memory of this appalling crime will strengthen our determination to heal the wounds that for too long have sullied relations between Christians and Jews. It is my heartfelt desire that the friendship we now enjoy will grow ever stronger, so that the Church's irrevocable relations with the people of the Covenant will bear fruit in abundance."[4]
Benedict XVI thanks the Jewish leaders for their statements. This includes the incredible statement from Alan Solow that "any attack on Jews or Judaism is an attack on the Church." It includes the statement that the Old Covenant is eternal – a clear heresy – and that Vatican II taught it (which is true). Benedict XVI endorses and accepts all of this apostasy. Benedict XVI is a total apostate. Benedict XVI mentions his respect and esteem for Jews, who totally reject Jesus Christ. Benedict XVI then calls the Jews the "children of Abraham," which is utter heresy. St. Paul teaches the following in Galatians 3:26-29:
"For you are all the children of God by faith, in Christ Jesus. For as many of you as have been baptized in Christ, have put on Christ. There is neither Jew nor Greek: there is neither bond nor free: there is neither male nor female. For you are all one in Christ Jesus. And if you be Christ's, then are you the seed of Abraham, heirs according to the promise."
St. Paul clearly teaches that it is only by faith in Jesus Christ (which comes first in receiving baptism) that you become a child of God. He then states that only if you have Jesus Christ are you to be considered a child of Abraham. But the heresy that Jews and Muslims are the "children of Abraham" has been taught constantly by Antipopes John Paul II and Benedict XVI.
Benedict XVI then declares that Jews have "a faith that we Christians share with you"! Benedict XVI also indicates that the only teaching that you must accept is the Jewish view of "the Holocaust." Yes, you can support abortion; you can hold to virtually any heresy and you will not be denounced as a non-Catholic. Pro-abortion politicians abound and are not excommunicated. They parade to Novus Ordo "Communion" without a problem. There is "tolerance" for those things, and for every kind of false religion on Earth. But if you dare to utter anything that minimizes or denies "the Holocaust," you will not be accepted by him as a Catholic. Benedict XVI then declares the Jews to be "the people of the covenant." This is heresy, as covered already. The only valid Covenant is the New Covenant. Jews reject it and are therefore not people of the Covenant. Just rack it up as another heresy from Benedict XVI.
Benedict XVI's January 29, 2009 Address to the Russian Bishops: "You live in a particular ecclesial context, that is, in a country the majority of whose population is distinguished by a thousand-year Orthodox tradition with a rich religious and cultural heritage. It is essential to take into account the necessity for a renewed commitment in dialogue with our Orthodox brothers and sisters… In these days I feel spiritually near to our dear brothers and sisters of the Russian Orthodox Church, who are rejoicing at the election of Metropolitan Kirill, the new Patriarch of Moscow and of All Russia. To him I address my warmest wishes for the delicate ecclesial task with which he has been entrusted." [5]
The "Orthodox" religion is a non-Catholic religion, in schism with the Catholic Church. But the arch-heretic Benedict XVI looks at this as a rich religious heritage. Benedict XVI says he feels spiritually near to the schismatic "Orthodox" Church. This is no surprise, because he is a schismatic like them. He then declares, as he has mentioned many times recently, that the newly elected schismatic patriarch is "the new Patriarch of Moscow and of All Russia." He then indicates that God has entrusted the schismatic to continue leading a church of schism. Benedict XVI says "my warmest wishes for the delicate ecclesial task with which he has been entrusted."
Benedict XVI's February 2, 2009 Address to the Bishops from Turkey: "… I am pleased to recall that the meditation on the Word of God by Bartholomew I, the Ecumenical Patriarch of Constantinople, was a key moment in this Synodal Assembly… Moreover, the distinction between the civil and religious spheres is certainly a value that must be protected. Yet in this framework it behooves the State to guarantee effectively freedom of worship and religious freedom, both for citizens and for religious communities…[6]
Benedict XVI's statement that the State must guarantee freedom of worship for false religions is exactly the opposite of what true popes have infallibly declared. Popes have solemnly taught that to be a Catholic one must reject the heretical idea that States are bound to recognize false religions. The true popes have infallibly declared that states cannot allow the public profession of false religions, and that the Catholic religion is to be the only religion that can be protected and promoted by the State. All of these facts prove, once again, that Benedict XVI is a non-Catholic antipope.
Notes:
[1] L' Osservatore Romano, February 11, 2009.
[2] L' Osservatore Romano, February 11, 2009.
[3] L' Osservatore Romano, February 11, 2009.
[4] L' Osservatore Romano, February 11, 2009.
[5] L' Osservatore Romano, February 11, 2009, pp. 3,5.
[6] L' Osservatore Romano, February 11, 2009, p. 5.
Sign up for our free e-mail list to see future vaticancatholic.com videos and articles.