By Bro. Michael Dimond, O.S.B.
Read more of Benedict XVI's Recent Heresies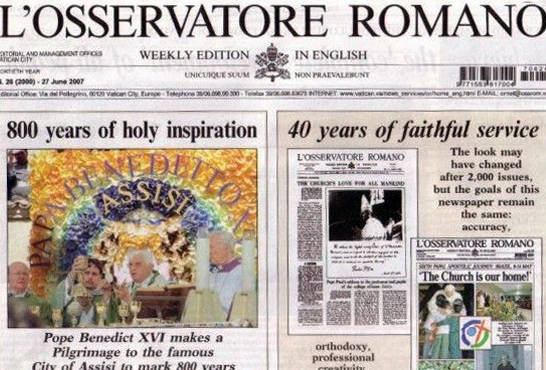 2,000 issues of L'Osservatore Romano – 40 years of unfaithful service, heresy and apostasy
This week's heresy of the week proves again that Benedict XVI is an apostate. It proves that his move to make the Latin Mass more available is simply an attempt to get people to stay in the post Vatican II sect and to get certain groups back in communion with him. I have now gone through 2000 issues of L' Osservatore Romano. Here are some examples of heresy from the 2000th issue of L'Osservatore Romano to show what heresies Benedict XVI usually delivers on a weekly basis.
Benedict XVI, Address to Islamic Republic of Pakistan, June 1, 2007: "...young people will come to recognize the dignity common to all men and women, including those belonging to cultures and religions different from their own... I encourage Pakistan to bolster its efforts in securing freedom for people to live, worship and perform works of charity according to the dictates of their conscience... I wish to conclude by expressing my deep respect and admiration for the religious heritage that has inspired the human development of your Country, and greater peace and mutual understanding. Christians and Muslims both worship the One God, the Almighty, Creator of heaven and earth. It is this belief that moves us to unite minds and hearts as we work tirelessly for peace, justice and a better future for mankind." (L'Osservatore Romano, June 27, 2007 p. 14.)
People who are in mortal sin or who have a false faith have less dignity than Catholics. But Benedict XVI says that no matter what religion people adhere to their dignity is equal. This is offensive to Catholic teaching, for it implies that all religions are more or less good. He then calls for freedom to worship and believe according any belief-system. This is a heresy which has been condemned by the Church. He then goes on to say how much he respects and admires the religious heritage (Islam) of Pakistan. That means that he respects and admires the false Islamic religion. He finishes off his heretical address by stating that Muslims (who reject the Holy Trinity) worship the One God.
Benedict XVI, Address to Congregation for Oriental Churches, June 9, 2007: "... I regard the Churches of Orthodoxy with esteem and affection... I reaffirm the irreversibility of the interreligious encounter... It is essential to guarantee migrants a satisfactory welcome in their new context and the indispensable link with their own religious tradition." ( L'Osservatore Romano, June 27, 2007 p. 3.)
Benedict the heretic says here that he esteems and has affection for the schismatic "Orthodox" Churches. He also states that we must guarantee links for new people of the country to follow their own religious traditions.
Benedict XVI, Homily, June 17, 2007: "I cannot forget in today's content the initiative of John Paul II, my Predecessor of holy memory, who in 1986 wanted to gather here at a Prayer Meeting for Peace representatives of the Christian denominations and of the different world religions. It was a prophetic intuition and a moment of grace, as I said a few months ago in my Letter of this Town on the occasion of the 20th anniversary of that event." (L'Osservatore Romano, June 27, 2007 p. 6.)
He again praises the apostate Assisi prayer meeting. Benedict XVI is a complete apostate.
Sign up for our free e-mail list to see future vaticancatholic.com videos and articles.