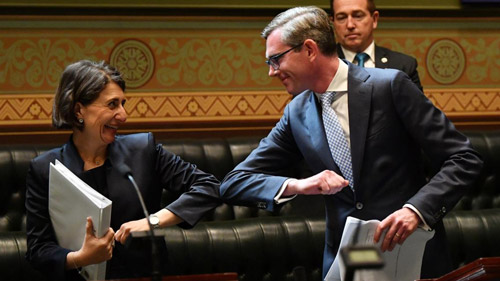 "The new Australian premier won't free his state from COVID-19 restrictions until 80% of residents accept two of the experimental COVID-19 jabs.
In a statement released on the 7th October, newly-elected New South Wales (NSW) Premier Dominic Perrottet announced that, although he will lift many of the restrictions placed on those living in the state, freedoms will still be tied to vaccinations.
We're moving forward with our staged NSW reopening. A few adjustments to Monday's 70% relaxations and further easing once we hit 80% double vaccinated. pic.twitter.com/UJtcgvrKZb

— Dom Perrottet (@Dom_Perrottet) October 6, 2021
Prior to his appointment as NSW Premier, conservative Catholic Dominic Perrottet distinguished himself as one of the highest-ranking members of the Liberal Party to publicly challenge the draconian public health orders enforced by NSW Chief Health Officer, Dr Kerry Chant.
Medical health experts from around the world have repeatedly warned that the experimental COVID vaccines do not protect individuals from contracting the virus, do not prevent individuals from spreading the virus to others, and only serve to weaken the individual's natural immunity – among other potentially life-threatening long term conditions. In addition, according to VAERS data, the adverse effects to the COVID vaccines have caused more injuries and deaths than the virus.
Nevertheless, many governments and corporations remain united in their imposition of mandatory vaccines as a condition of employment or to be permitted access to public and private services. This includes medical care, education, construction, transportation and retail services.
In a recent statement, Perrottet announced that he will be alleviating many of the restrictions placed on those living in the state, such as schools closures. However, Perrottet also stated that 'All roadmap freedoms at 70 and 80 percent will continue to be for fully vaccinated people only,' dashing initial hopes for political change.
'Vaccinations are the key to life returning to normal and the changes today will help family and friends reconnect, get kids back to school and get businesses back up and running sooner,' the new Premier said.
'NSW is putting in the hard yards, and it's important people continue to turn out in droves to be vaccinated.'
Prior to his appointment as New South Wales Premier, Perrottet hinted he would bring about immediate economic reform and the end of draconian public health orders. This included indefinite lockdowns, the restrictions on businesses or places of worship, and mandatory vaccinations.
When NSW Chief Health Officer Dr Kerry Chant suggested the initial extension of lockdowns in Sydney, Perrottet is reported to have responded that Chant and other government officials should sacrifice their own salaries in solidarity with the Australians they were forcing into bankruptcy.
In New South Wales, disgraced former Premier Gladys Berejiklian was responsible for the enforcement of draconian lockdowns and vaccine mandates.
Prior to Berejiklian's shocking resignation due to a corruption investigation, United Australia Party founder Clive Palmer stated in a press conference he believed that Berejiklian was 'being directed by a lobbyist in Sydney who is being paid by Astrazeneca and by Pfizer tens of millions of dollars to get these policies through and to make sure the vaccine is pushed.'
Since the outbreak of COVID, the Australian state of New South Wales has recorded 457 recorded deaths, with critics arguing that indefinite lockdowns and the adverse reactions caused by vaccines have caused more damage than the virus itself."
Sign up for our free e-mail list to see future vaticancatholic.com videos and articles.