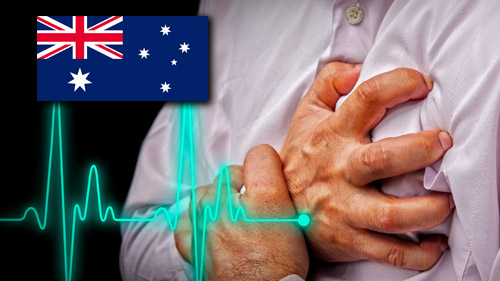 "Media outlets in Australia took note of a sudden increase in fatal cardiac deaths within the past few months, however they downplayed links to Covid jabs which have recently been blamed for unexpected deaths.
Covering the issue over the weekend, 9News Queensland documented the distressing trend, claiming the 'pandemic has helped fuel a rise' in the fatal cardiac arrest tally...
The Sydney Morning Herald last week also covered the recent heart attack surge...
The Herald's report goes on to cite doctors attributing the deaths to an increase in risk factors caused by the pandemic, and cites a recent study in Australia which:
'found hospitalisations from myocarditis (inflammation of the heart muscle) and pericarditis (swelling of the membrane surrounding the heart), pulmonary embolism, heart attack and stroke were significantly more frequent after COVID‐19.'
The article mentions as a side note in 'rare cases' the Covid vaccines 'have been linked' to myocarditis and pericarditis, but then immediately dismisses any possible causation...
A top Australian cardiologist has also urged the government to halt mRNA injections due to their connection to the sharp rise in heart conditions.
'I've seen 60-70 patients in my own practice over the past 12 months who have had similar reactions,' Sydney-based cardiologist Dr. Ross Walker told the Daily Mail last November. 'I've seen other people with chest pain, shortness of breath, heart palpitations.'"
Just like the mostly unvaxed Africa has zero covid.
Funny that.

— HavanaBanana77 (@Banana77Havana) January 2, 2023
Sign up for our free e-mail list to see future vaticancatholic.com videos and articles.