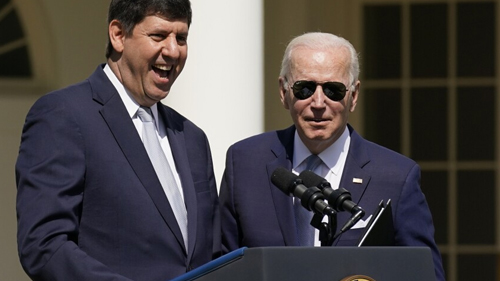 Steve Dettelbach, director of the Bureau of Alcohol, Tobacco, Firearms, and Explosives, would not define what an assault weapon is and said he is "not a firearms expert" despite saying he would support an assault weapons ban.
At a House Appropriations Subcommittee hearing Tuesday on the ATF's 2024 fiscal year budget, Rep. Jake Ellzey (R-Texas) asked Dettelbach: "In 15 seconds, would you define an 'assault weapon' for me?"
"I'll go shorter than that, because honestly, if Congress wishes to take that up, I think Congress would have to do the work, but we would be there to provide technical assistance," Dettelbach answered. "I, unlike you, am not a firearms expert to the same extent as you maybe, but we have people at ATF who can talk about velocity of firearms, what damage different kinds of firearms cause, so that whatever determination you chose to make would be an informed one."
Despite not defining what an assault weapon was, Dettelbach has said he supports an assault weapons ban and called on Congress to pass one...
This is not the first time Dettelbach has avoided defining the term "assault weapon."
During his confirmation hearing last year, Dettelbach acknowledged how when he ran for the position of Ohio attorney general in 2018 he discussed gun control without a definition.
"When I was a candidate for office, I did talk about restrictions on assault weapons. I did not define the term. And I haven't gone through the process of defining that term," he said, according to Fox News.
Sign up for our free e-mail list to see future vaticancatholic.com videos and articles.