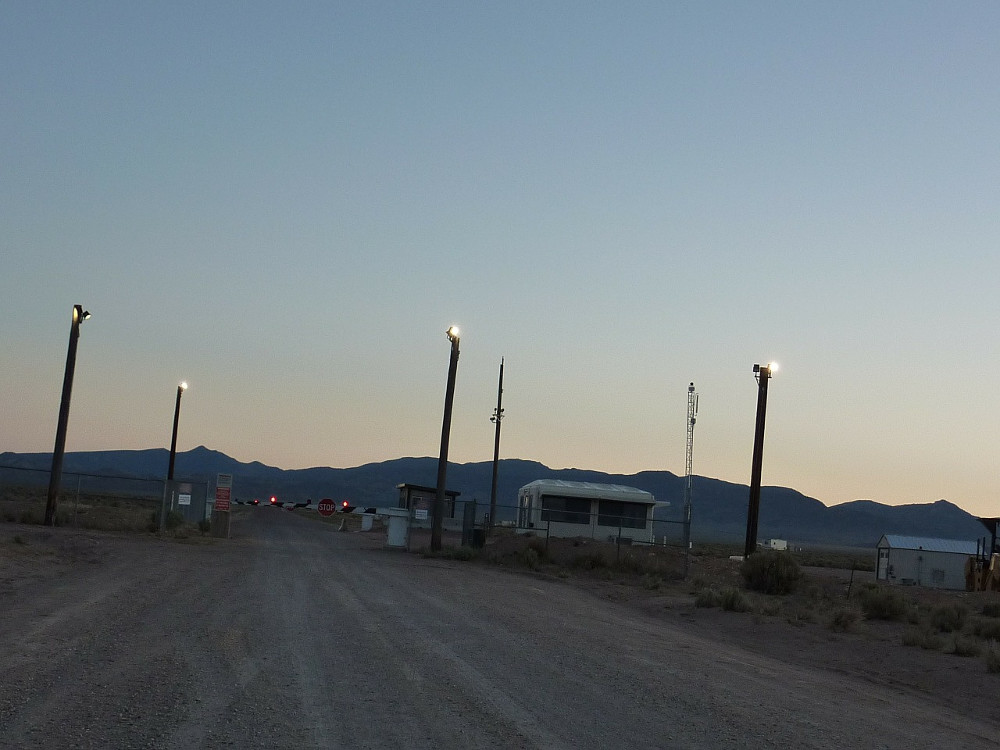 Area 51 is a top secret government facility in Nevada.  Top secret development and testing are performed there on experimental aircraft and weapon systems.[1]  Some of these top secret planes bear a resemblance to typical UFO craft sightings.  Area 51 has been a test center for the U-2 spy plane, the SR-71 Blackbird reconnaissance plane, the F-117 fighter and bomber, and saucer-like aircrafts as well.[2]  The man-made tests that are being conducted on advanced aircraft at this place probably make up many of the reported "UFO Sightings" in the area.  Sightings have been reported by people who believe that some     of the strange planes or lights seen near Area 51 are from aliens. 
However, it's possible that some of the lights and strange things that people see at Area 51 are preternatural.  It has been said that, in 1947, satanist Jack Parsons held a huge satanic ritual on the very spot where Area 51 is currently located.  Parsons' magical ceremony was called the "Babylon Working" project.  It was designed by Aleister Crowley – a satanist and a man who called himself "the beast 666."[3]  The purpose  of the series of magical ceremonies, on the spot where Area 51 is now located, was to unseal an inter-dimensional gateway.  This, they hoped, would allow other dimensional entities known as the "Old Ones" access to our space/time continuum.  During the ritual, the spirit of Antichrist was bestowed on Jack Parsons.  One person claimed to witness Parsons rip a hole in space time and he said that something evil flew in. 
The culmination of the ceremonies was supposedly effective, having resulted in the establishment of "extra-terrestrial contact..." [4]  Jack Parsons was also a rocket designer who developed patented rocket technology which is still in use by NASA.  NASA even named a crater on the far side of the moon in honor of Jack Parsons.[5]  Parsons held that Jesus Christ and His Church were the enemies of civilization.  Parsons was chosen by Aleister Crowley to lead the satanic O.T.O. (Ordo Templi Orientalis) secret society in California in 1942.[6]  So, it would not be surprising at all that at Area 51, the very spot where this satanic gateway was opened, there would be many UFO sightings.
Endnotes:
[1] http://www.dreamlandresort.com/area51/dreamland_50years.html and http://www.ufomind.com/area51/desert_rat/1996/dr36/walz/
[2] Gary Bates, Alien Intrusion, p. 194. Also see http://www.desertusa.com/mag05/oct/51.html
[3] http://en.wikipedia.org/wiki/Jack_Parsons, p. 1.
[4] Ron Patton, Demons in Alien's Clothing, p. 2, internet version. The incident was described in the book, Outside the Circle of Time (1980) by Kenneth Grant found also on www.conspiracyarchive.com/UFOs/demons_aliens_clothes.htm, also on www.thewatcherfiles.com/ufo-satanism.html
[5] http://en.wikipedia.org/wiki/Jack_Parsons, p. 2.
[6] http://en.wikipedia.org/wiki/Jack_Parsons, p. 1. Also see Dr. Jacque Vallee, Messengers of Deception, p. 216.
Sign up for our free e-mail list to see future vaticancatholic.com videos and articles.