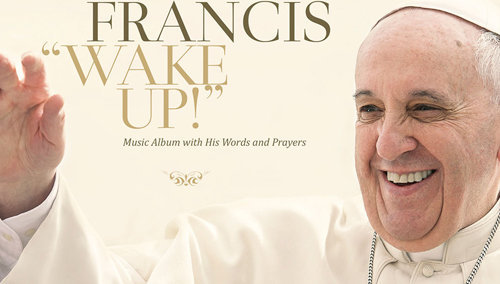 Telegraph.co.uk reports:
... Francis will be hoping his popularity translates into record sales after his first pop-rock album was released in Italy on Friday.
Wake Up!, an 11-track Vatican-approved album, features many of the most moving addresses of Pope Francis's papacy laid over rap, pop-rock and Latin rhythms.
An online extract from the record, which was released at the end of September, has already been listened to a billion times, according to distributors.
Speaking at the record's launch at the Vatican, Father Giulio Neroni, the Italian priest who produced the album, said: "Pope Francis doesn't sing as such. But his voice does sing and play, not to the cardinals, but to the people, the faithful."
Tony Pagliuca, who worked on six of the tracks, said the Pope's rhythmic voice gave some of the songs the feel of "slow rap"...
Sign up for our free e-mail list to see future vaticancatholic.com videos and articles.