Brother Michael Dimond Francis' Recent Heresies
Francis' June 15, 2015 address to representatives of the Czechoslovak Hussite church and of the "Evangelical" church:

"Dear Friends,

I welcome you, distinguished representatives of the Czechoslovak Hussite Church and of the Evangelical Church of Czech Brethren, who have come to Rome… Six centuries have passed since the day that the renowned preacher and Rector of the University of Prague, Jan Hus, died tragically. Previously in 1999, St John Paul II, in an intervening international symposium dedicated to this memorable figure, expressed his "profound regret for the cruel death inflicted [on him], and he numbered him among the Reformers of the Church… I ask all of you, please, to pray for me and for my ministry."[1]
Jan Hus was condemned as a heretic by the Catholic Church at the Council of Constance.  In 1415 he was burned at the stake for heresy against Catholic teachings, including those on ecclesiology, the Eucharist, and other theological topics.  However, Antipope Francis and the other Vatican II antipopes celebrate and praise Hus.  Francis describes the infamous heretic as "the renowned preacher", while saying nothing negative about him.  Francis calls the heretical leaders "distinguished representatives", and he asks the heretical Protestant leaders to pray for him.  Francis is a manifest heretic.
Francis' June 17, 2015 general audience:

"In these cases, death is like a black hole that opens up in the life of the family and for which we have no explanation. And at times we even go so far as to lay the blame on God. How many people — I understand them — get angry with God, blaspheme: 'Why did you take my son, my daughter? There is no God, God does not exist!'"[2]
Antipope Francis says that he can "understand" people who blaspheme and say: "There is no God, God does not exist"!
Francis' June 19, 2015 address:

"I give a most cordial welcome to Your Holiness and to the distinguished members of your delegation. I thank you for your words of friendship and spiritual closeness, and I extend my greetings to the Bishops, the clergy, and all the faithful of the Syrian Orthodox Church… The visit of your Holiness strengthens the bonds of friendship and fraternity that unite our Churches, the See of Rome and the See of Antioch… Yours, Holiness, is a Church of martyrs from the beginning, and it is so today… Let us exchange the treasures of our traditions as spiritual gifts."[3]
Francis again refers to a schismatic leader as "Holiness" and says that the schismatic church is "a Church of martyrs".  There is no such thing as a non-Catholic martyr.  Antipope Francis' proclamation is clearly heretical.  The Council of Florence declared that even those who shed their blood for Christ but are not inside the Catholic Church will be lost.
Francis' June 22, 2015 address during visit to the Waldensian church:

"In particular I greet the Moderator of the Tavola Valdese, Pastor Eugenio Bernardini, and the Pastor of this community in Turin, Rev. Paolo Ribet, to whom goes my heartfelt appreciation for the invitation they so kindly gave to me. The warm welcome which you reserved for me brings to mind other meetings with friends of the Waldensian Evangelical Church of the River Plate, from whom I have been able to appreciate its spirituality and faith, and to learn so many good things… On behalf of the Catholic Church I ask your forgiveness. I ask your forgiveness for unchristian-like and even inhuman attitudes and conduct which, historically, we have had against you. In the name of the Lord Jesus Christ, forgive us!"[4]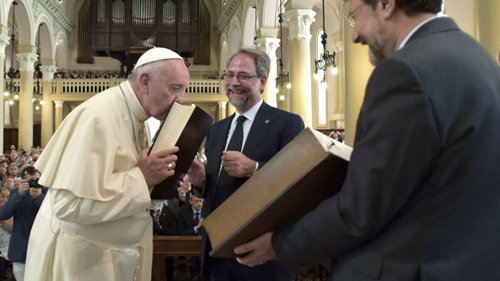 In June of 2015 Francis became the first claimant to the papacy in history to visit a Waldensian Protestant church.  Francis describes a heretical Protestant layman as "the Pastor of this community" and "reverend".  Only a validly ordained Catholic priest can be called "reverend" and "pastor".  Francis' description is a rejection of the Catholic Church's teaching that "Churches" such as the Waldensian Protestant sect do not have valid or lawful ministers.
Francis' June 25, 2015 address to delegation from B'nai B'rith International:

"Dear Friends,

I am pleased to greet you during your visit to the Vatican. My predecessors met with delegations of B'nai B'rith International on several occasions, and today I offer you my welcome with renewed respect and affection.

Your organization has enjoyed relations with the Holy See since the promulgation of the Conciliar Declaration Nostra Aetate. This document constituted a milestone on the path of mutual knowledge and esteem between Jews and Catholics, based on the great spiritual patrimony that, thanks be to God, we share in common."[5]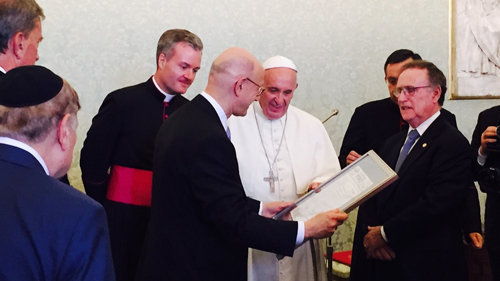 Francis says that he has "respect" and "esteem" for those who reject Jesus.  He is an apostate.
Francis' June 27, 2015 address to "Orthodox" delegation:

"I ask you to convey my fraternal greeting to His Holiness Patriarch Bartholomew and to the Holy Synod, together with my most heartfelt appreciation for having desired to send eminent representatives to share our joy.  Please pray for me and for my ministry."[6]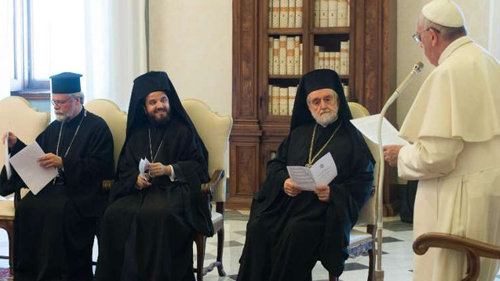 Francis again refers to a schismatic leader as "Holiness", and he describes their heretical and schismatic synod as "holy".  He also asks for the schismatics and heretics to "pray" for him.
Francis' July 3, 2015 address to the "Renewal in the Holy Spirit Movement":

"Good afternoon and welcome… It was then that Cardinal Suenens got to know the Charismatic Renewal, which he described as a 'flow of grace', and he was the key person for maintaining it in the Church. At the Mass on Pentecost Monday in 1975, Pope Paul VI thanked him with these words: "In the name of the Lord I thank you for having brought the Charismatic Renewal into the heart of the Church"… You, Charismatics, have a special grace to pray and work for Christian unity, so that the current of grace may pass through all Christian Churches. Christian unity is the work of the Holy Spirit and we must pray together — spiritual ecumenism, the ecumenism of prayer. 'But, Father, can I pray with an Evangelical, with an Orthodox, with a Lutheran?' — 'You must, you must! You have received the same Baptism'. We have all received the same Baptism; we are all going on Jesus' path, we want Jesus. We have all made these divisions in history, for so many reasons, but not good ones. But now, in fact, is the time in which the Spirit makes us think that these divisions are not good, that these divisions are a counter-testimony, and we must do everything in order to journey together: spiritual ecumenism, the ecumenism of prayer, the ecumenism of work, but of charity at the same time; the ecumenism of reading the Bible together... This current of grace passes through all Christian Confessions, all of us who believe in Christ — unity first of all in prayer. The work for Christian unity begins with prayer. Pray together.

Unity, for the blood of today's martyrs makes us one. There is the ecumenism of blood. We know that when those who hate Jesus Christ kill a Christian, before killing him, they do not ask him: 'Are you a Lutheran, are you an Orthodox, are you an Evangelical, are you a Baptist, are you a Methodist?" You are Christian!... And this is something that I entrust to you, perhaps I have already told you this, but it is a true story. It is a true story. In Hamburg, a city of Germany, there was a parish priest who studied the writings to carry forward the cause for the beatification of a priest killed by Nazis, guillotined. The reason: he taught children the catechism. And, as he studied, he discovered that after the priest, five minutes later, a Lutheran pastor was guillotined for the same reason. And the blood of both was mixed: both were martyrs, both were martyrs. It is the ecumenism of blood. If the enemy unites us in death, who are we to be divided in life? Let us allow the Spirit to enter, let us pray to go forward all together. 'But there are differences!'. Let us leave them aside; let us walk with what we have in common, which is enough… A few months ago, there were those 23 Egyptians who were also beheaded on the beach in Libya, who in that moment said Jesus' name. 'But they were not Catholics'... But they were Christians, they are brothers, they are our martyrs! — the ecumenism of blood. Fifty years ago, at the canonization of the young martyrs of Uganda, Blessed Paul VI made reference to the fact that their Anglican companion catechists had also poured out their blood for the same reason; they were Christians,they were martyrs. Excuse me, do not be scandalized, they are our martyrs! Because they gave their life for Christ and this is the ecumenism of blood — pray, remembering our common martyrs… pray together with other Christians…"[7]
Francis declares that "Catholics" must pray with non-Catholics.  The antipope thus encourages mortally sinful activity and promotes heresy.  Francis also says the differences between Catholics and non-Catholic sects are not good.  According to him, a Catholic's adherence to the Papacy, which separates him from a Protestant, is bad.  With regard to these differences, Francis says: "Let us leave them aside"!  Francis is telling Catholics to give up Catholic dogma.  Further, speaking of non-Catholic "martyrs", Francis also explicitly says: "they are our martyrs!"  He is openly stating that non-Catholic "martyrs" are "martyrs" of the Catholic Church.  Francis recognizes how contrary his statement is to Catholic dogma, for he warns them when he teaches his outrageous heresy.  He says, "Excuse me, do not be scandalized, they are our martyrs!"  Antipope Francis is a bold heretic.
2 John 1:9-10: "Whosoever revolteth, and continueth not in the doctrine of Christ, hath not God. He that continueth in the doctrine, the same hath both the Father and the Son.  If any man come to you, and bring not this doctrine, receive him not into the house nor say to him, God speed you."

Francis' August 7, 2015 address to the "Eucharistic Youth Movement":

"In our history, there have always been conflicts over religious identity, for example, which resulted from lack of respect for the other person's identity. 'But this one is not Catholic, he doesn't believe in Jesus Christ...' — 'Respect him. Look for his good qualities. Look in his religion, in his culture, for the values that he has. Respect'. This is how conflicts are resolved with respect for the identity of others."[8]
Francis teaches that we must respect false religions and those who reject Jesus.
Francis' August 16, 2015 message to the Taize ecumenical community on the seventy-fifth anniversary of their founding:

"In seeking with passion the unity of the Church, Body of Christ, Br Roger opened himself up to the treasures safeguarded in the different Christian traditions without, however, causing a rupture with his Protestant origin."[9]
Francis says non-Catholic religions have "treasures".  Francis believes it's a great thing that non-Catholic religions have safeguarded their "traditions" of heresy and schism.  Francis also confirms that "Brother" Roger never gave up Protestantism, despite being given "Holy Communion" by Antipope Benedict XVI.  (Benedict XVI also declared that the heretic "Brother" Roger went to Heaven).  For those who don't know, "Brother" Roger was the non-Catholic founder of an ecumenical "monastery".
Francis' August 29, 2015 message to participants in the International Meeting for Peace: "Distinguished Representatives of the Christian Churches and Communities and of the Great Religions of the World,

I offer all of you my most respectful greetings and I express my spiritual closeness to the International Meeting for Peace that the Sant' Egidio Community has organized in Tirana.

These meetings follow the footsteps of St John Paul II at the first historic Meeting at Assisi in October of 1986. Since then a pilgrimage of men and women of different religions has developed which, year after year, stops in different cities of the world. While the historical scene changes and people are called to confront profound and sometimes dramatic transformations, one increasingly perceives the necessity for followers of various religions to meet, dialogue, walk together and collaborate for peace, in the "spirit of Assisi"… It is faith that drives us to trust in God and not to resign ourselves to the work of evil. As believers we are called to rediscover that universal vocation to peace planted in the heart of our various religious traditions, and to reintroduce it with courage to the men and women of our time… May a new prophecy of peace set out from the land of Albania, land of martyrs. I join with all of you, so that in the diversity of the religious traditions, we may continue to live out the common passion for the growth of peaceful coexistence among all peoples of the earth.

From the Vatican, 29 August 2015 Memorial of the Martyrdom of St John the Baptist

Francis"[10]
Here the apostate Francis refers to followers of the various false religions of the world as "Distinguished Representatives".  To him, to represent a false religion is a badge of honor.  He also calls their false religions "great".  The truth is that those religions lead people into the never-ending fire of Hell.
Francis' August 6, 2015 letter explaining his establishment of the World Day of Prayer for the Care of Creation to be celebrated in conjunction with the "Orthodox" Church on September 1: "Sharing the concern of my beloved brother, Ecumenical Patriarch Bartholomew, for the future of creation (cf. Laudato Si', 7-9), and at the suggestion of his representative, Metropolitan Ioannis of Pergamum, who took part in the presentation of the Encyclical Laudato Si' on care for our common home, I wish to inform you that I have decided to institute in the Catholic Church the "World Day of Prayer for the Care of Creation" which, beginning this year, is to be celebrated on 1 September, as has been the custom in the Orthodox Church for some time… The celebration of this Day, on the same date as the Orthodox Church, will be a valuable opportunity to bear witness to our growing communion with our Orthodox brothers and sisters. We live at a time when all Christians are faced with the same decisive challenges, to which we must respond together, in order to be more credible and effective. It is my hope that this Day will in some way also involve other Churches and ecclesial Communities, and be celebrated in union with similar initiatives of the World Council of Churches…  I ask you, Cardinal Koch, as President of the Pontifical Council for the Promotion of Christian Unity, to make the necessary contacts with the Ecumenical Patriarchate and with other ecumenical organizations so that this World Day can serve as a sign of a common journey in which all believers in Christ take part. It will also be your Council's responsibility to ensure that it is coordinated with similar initiatives undertaken by the World Council of Churches."[11]
Francis calls the schismatic leader his "beloved brother".  He also establishes the "World Day of Prayer for the Care of Creation" specifically on the same day "Orthodox" schismatics celebrate it.  Francis did this to express his communion with the schismatics, which he describes as "our growing communion with our Orthodox brothers and sisters".
Francis hopes the day will include other non-Catholic churches and "be celebrated in union with similar initiatives of the World Council of Churches".  Francis therefore believes that he is in union with the non-Catholic "World Council of Churches".  The "World Council of Churches" was established in 1948.  Its members include: Anglicans, "Orthodox", Old "Catholics", Methodists, Baptists, and many other Protestants.
Francis' September 21, 2015 message schismatic "Patriarch" Mar Gewargis: "His Holiness Mar Gewargis Catholicos Patriarch of the Assyrian Church of the East

I received with joy the news of the election of Your Holiness as Catholicos Patriarch of the Assyrian Church of the East. I gladly extend to you and to the clergy and faithful of the Assyrian Church of the East my good wishes and prayerful solidarity, asking the Holy Spirit to bestow his abundant blessings upon your lofty ministry. It is my prayer that Your Holiness may be an inspirational pastor for the flock entrusted to your care… May our heavenly Father fill Your Holiness with peace and strength for the noble task that awaits you."[12]
Francis receives with joy news that a new schismatic leader has been elected.  As usual, Francis calls him "Holiness" and describes the schismatic's followers as "faithful".  Francis also refers to the schismatic's leadership in a non-Catholic sect as a "lofty ministry".  Francis hopes the schismatic leader will be an "inspirational pastor".  Francis says God's flock has been entrusted to the schismatic.  Francis says being a schismatic leader is a "noble task".  Antipope Francis is, without any doubt, a schismatic.
Francis' September 23, 2015 address to the "Bishops" of the United States of America: "Dear Brother Bishops,

First of all, I wish to send a greeting to the Jewish community, our Jewish brothers and sisters, who today are celebrating Yom Kippur. May the Lord bless them with peace and help them to advance on the path of holiness, as we heard today in his word: "You shall be holy, for I am holy" (Lev 19:2)."[13]
Francis asks the Lord to bless those who reject Jesus Christ.  He asks the Lord to help Jews advance "on the path of holiness".  Francis thus clearly teaches that the false religion of Judaism, and rejecting Jesus, is a way of holiness.  This is heresy and apostasy.  Those who continue to proclaim that Francis professes the Catholic faith (after seeing the clear evidence that he doesn't) will descend into everlasting fire after their death unless they convert.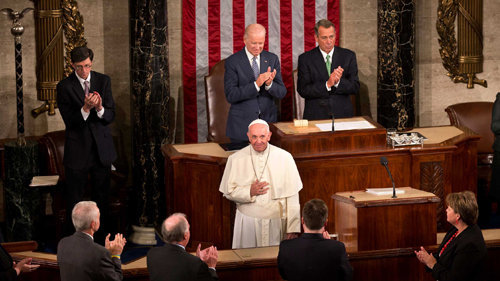 Francis' September 23, 2015 address to the Congress of the United States of America: "We know that no religion is immune from forms of individual delusion or ideological extremism. This means that we must be especially attentive to every type of fundamentalism, whether religious or of any other kind."[14]
Francis denounces "every type of fundamentalism."  He thus rejects those who hold fast (without comprise) to traditional Catholic teachings.
St. Paul: "Therefore, brethren, stand fast; and hold the traditions which you have learned, whether by word, or by our epistle". (2 Thess. 2:14)

Francis' September 24, 2015 homily in St. Patrick's Cathedral: "I have two thoughts today for my Muslim brothers and sisters. First, my good wishes as you celebrate today the day of sacrifice. I wish my greetings could have been warmer. Second, my closeness, on account of the tragedy which your people experienced today in Mecca. In this moment of prayer, I join, and all of us join, in praying to God, our almighty and merciful Father."[15]
Francis sends "good wishes" to those who celebrate the false religion of Islam and "celebrate the day of sacrifice".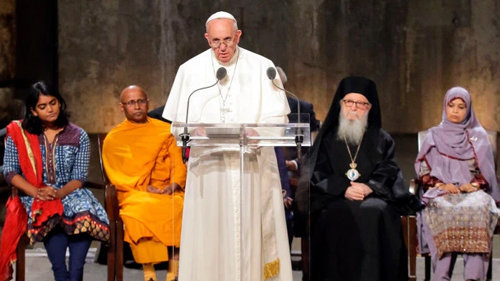 Francis' September 25, 2015 "prayer meeting" with "religious leaders" at the Ground Zero Memorial in New York:

"In a metropolis which might seem impersonal, faceless, lonely, you demonstrated the powerful solidarity born of mutual support, love and self-sacrifice. No one thought about race, nationality, neighborhoods, religion or politics. It was all about solidarity, meeting immediate needs, brotherhood. It was about being brothers and sisters… In this place of sorrow and remembrance I am filled with hope, as I have the opportunity to join with leaders representing the many religious traditions which enrich the life of this great city. I trust that our presence together will be a powerful sign… In opposing every attempt to create a rigid uniformity, we can and must build unity on the basis of our diversity of languages, cultures and religions, and lift our voices against everything which would stand in the way of such unity. Together we are called to say 'no' to every attempt to impose uniformity and "yes" to a diversity accepted and reconciled… Here, in this place of remembrance, I would ask everyone together, each in his or her own way, to spend a moment in silence and prayer."

The following "prayer" was then recited by Francis:

"O God of love, compassion, and healing, look on us, people of many different faiths and religious traditions, who gather today on this hallowed ground, the scene of unspeakable violence and pain.

We ask you in your goodness to give eternal light and peace to all who died here…"[16]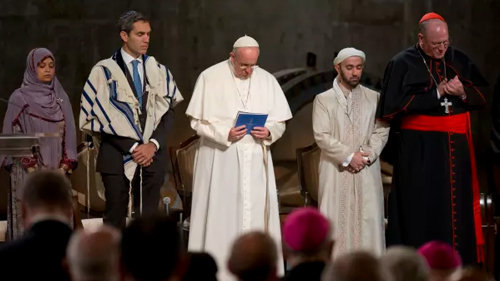 Referring to the events on September 11, 2001, Francis says that "no one" in New York City thought about religion.  He describes this as a good thing!  So, if you don't think about God and Christianity, that's a great thing in Antipope Francis' view!  He is preaching godless apostasy.  Francis also says that "our presence together" (with non-Catholic leaders and false religions) "will be a powerful sign".  He is preaching unity without God, without Christ, without Catholicism.  He is a complete apostate.  Francis says that "Catholics" must oppose "a rigid uniformity".  He says that unity must be built on a diversity of religions and not by conversion to one religion.  Francis then encourages the leaders of false religions to pray to their false gods.  Francis ends by asking God to look down upon the leaders of the various false religions gathered as if they all represent the true God and are his representatives!  This is idolatry.  Francis then prays for deceased non-Catholics, which is forbidden in Catholic teaching.  Francis' "prayer" indicates that he believes all men can be saved.  However, the Catholic Church teaches that you must have the Catholic faith to be saved.  That's why a Catholic cannot pray for those who die without the true faith.
Francis' September 26, 2015 address on "religious freedom" with Hispanic community at Independence Mall in Philadelphia:

"Religious freedom certainly means the right to worship God, individually and in community, as our consciences dictate. But religious liberty, by its nature, transcends places of worship and the private sphere of individuals and families. Because religion itself, the religious dimension, is not a subculture; it is part of the culture of every people and every nation.  Our various religious traditions serve society primarily by the message they proclaim. They call individuals and communities to worship God... The Quakers who founded Philadelphia were inspired by a profound evangelical sense of the dignity of each individual and the ideal of a community united by brotherly love. This conviction led them to found a colony which would be a haven of religious freedom and tolerance… I take this opportunity to thank all those, of whatever religion, who have sought to serve God…"[17]
Here Francis again promotes the heresy that people should "worship" God in whatever way their conscience dictates.  This is a heresy that has been condemned by many popes.  Francis says that various non-Catholic religions "serve society by the message they proclaim".  So, according to him, the false religious message presented by non-Catholic religions serves society in a positive way.  The Catholic Church, however, teaches that their false message leads people into heresy, mortal sin, and Hell.
Francis then praises the Protestant Quakers.  He says they were "inspired by a profound evangelical sense".
Francis' September 27, 2015 answers to questions from journalists on return flight to Rome from America: Question from Maria Antonietta Collins: "Holy Father, you have spoken a great deal about forgiveness, how God forgives us and how we are the ones who often have to ask forgiveness. I would like to ask you, after having seen you today at the seminary: there are many priests who sexually abused minors and have not asked forgiveness from their victims. Do you forgive them? And do you understand, on the other hand, the victims and their relatives who cannot, or do not want, to forgive?... Whether you understand victims and relatives who find themselves unable to forgive, or who do not want to forgive?"

Francis: "Yes, I understand them. I understand them, I pray for them and I do not judge them. Once, in one of these meetings, I met several people, and one woman said to me: "When my mother found out that I had been abused, she blasphemed God; she lost her faith and died an atheist". I understand that woman. I understand her, and God, who is better than I am, understands her. I am certain that God has welcomed that woman…"

Question from Miriam Schmidt: "Holy Father, I wanted to ask a question about the relationship of the Holy See with China and the situation in that country, which is quite difficult also for the Catholic Church. What are your thoughts?"

Francis: "China is a great nation which offers the world a great culture and so many good things…" [later Francis speaks on the question of women "priests"] Francis: … "on woman priests, this cannot be done. Pope Saint John Paul II, when the question was being raised, after very lengthy reflection, stated this clearly. Not because women aren't capable, but… look, in the Church, women are more important than men."[18]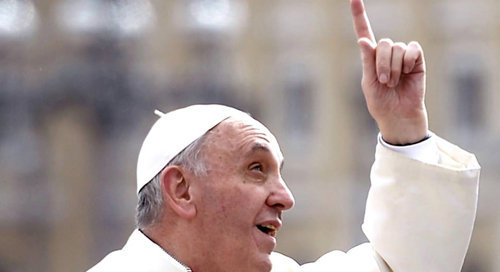 First, Francis says that he is "certain" God understood and welcomed into Heaven a woman who "blasphemed God", lost "her faith", and "died an atheist"!  In regard to the blaspheming atheist, Francis says: "I understand her" and God "understands her".  Take a moment to think about Antipope Francis' statement.  Francis is saying he understands why this woman blasphemed and became an atheist!  The antipope then says that the atheistic, communist country of China – which imposes abortion – is "a great nation".  Francis then promotes the falsehood that "women are more important than men".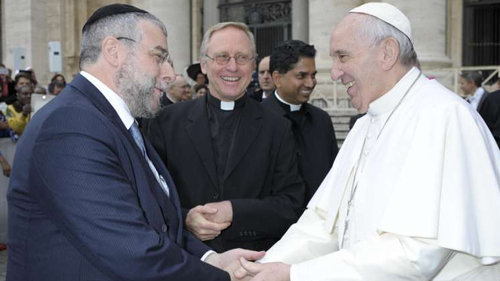 Francis' October 28, 2015 General Audience with representatives of the world's various religions: "Dear Brothers and Sisters, Good morning!

At the General Audiences there are often people or groups who belong to other religions; but today this presence is of particular importance, because we can remember together the 50th anniversary of the Declaration of the Second Vatican Council Nostra Aetate on the Relation of the Catholic Church to Non-Christian Religions. This subject was dear to the heart of Bl. Pope Paul VI, who on the Feast of Pentecost the year before the close of the Council, had established the Secretariat for non-Christians, today called the Pontifical Council for Interreligious Dialogue. For this reason I express my gratitude and my warm welcome… The message of the Declaration Nostra Aetate is always timely. Let us briefly recall a few of its points…

 — the benevolent and attentive gaze of the Church on religions: she rejects nothing that is beautiful and true in them (cf. n. 2);

— the Church regards with esteem the believers of all religions, appreciating their spiritual and moral commitment…

There have been so many events, initiatives, institutional or personal relationships with the non-Christian religions in these last 50 years, that it is difficult to recall them all. A particularly meaningful event was the meeting in Assisi on 27 October 1986. It was willed and sponsored by St John Paul II… Knowledge, respect and esteem for one another are the way. Indeed, if this applies in a particular way to relations with Jews, it likewise applies to relationships with other religions as well. I am thinking in particular of Muslims, who — as the Council recalls — "worship God, who is one, living and subsistent, merciful and almighty, the Creator of heaven and earth, who has also spoken to men" (Nostra Aetate, n. 3)…

The world, looking to us believers, exhorts us to cooperate amongst ourselves and with the men and women of good will who profess no religion…

We believers have no recipe for these problems, but we have one great resource: prayer. We believers pray. We must pray. Prayer is our treasure, from which we draw according to our respective traditions, to request the gifts that humanity longs for… Dear brothers and sisters, as for the future of interreligious dialogue, the first thing we have to do is pray, and pray for one another: we are brothers and sisters! Without the Lord, nothing is possible; with Him, everything becomes so! May our prayer — each one according to his or her own tradition — adhere fully to the will of God, who wants all men and women to recognize they are brothers and sisters and live as such, forming the great human family in the harmony of diversity.  Now, to conclude this Audience, I invite everyone, each one on his or her own, to pray in silence. May each one do so according to his or her own religious tradition."[19]
Francis says his Counter Church has "esteem" for the "believers" of every false religion on earth.  Francis encourages those who worship false gods to pray according to their own false religious traditions.  Francis calls them "believers" and says they must pray to their false gods.  Francis says prayer is their "treasure".  This is idolatry and apostasy.
Francis' September 15, 2015 Message for the World Day of the Sick:

"… I trust that this Jubilee year celebrating the mercy of God will foster an encounter with [Judaism and Islam] and with other noble religious traditions; may it open us to even more fervent dialogue so that we might know and understand one another better; may it eliminate every form of closed-mindedness and disrespect…"[20]
Antipope Francis hopes for "an encounter" with the false, Christ-rejecting "religions" of Judaism and Islam.  Francis says this encounter will hopefully "eliminate" any kind of disrespect towards those false religions.  This is just another expression of Francis' apostasy.
Notes:
Sign up for our free e-mail list to see future vaticancatholic.com videos and articles.