Brother Michael Dimond Francis' Recent Heresies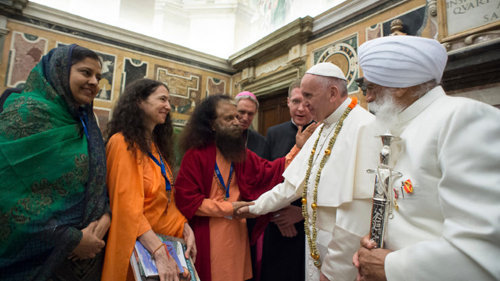 Francis' February 2, 2018 address to political authorities and leaders of different "religions" participating in the conference "on violence committed in the name of religion":

"Dear Friends, I offer you a warm welcome and I thank you for your presence.  It is highly significant that political authorities and religious leaders can meet… Violence promoted and carried out in the name of religion can only discredit religion itself.  Consequently, such violence must be condemned by all, and especially by genuinely religious persons… The religious person knows that God is the Holy One… Every religious leader is called to unmask any attempt to manipulate God for ends that have nothing to do with him or his glory… Adherence to a particular religion does not confer additional dignity and rights upon individuals, nor does non-adherence deny or diminish them.  There is a need, then, for a common commitment on the part of political authorities, religious leaders, teachers and those engaged in the fields of education, training and communications, to warn all those tempted by perverse forms of misguided religiosity that these have nothing to do with the profession of a religion worthy of this name."[1]
Francis describes the leaders of false religions as "religious leaders" and genuine religious persons.  Francis then says that those false religious leaders are "called to unmask any attempt to manipulate God for ends that have nothing to do with him or his glory".  This is apostasy.  Francis then teaches that "adherence to a particular religion does not confer additional dignity upon individuals, nor does non-adherence deny or diminish them".  The word dignity means "the state or quality of being worthy of honor or respect".  According to Francis, embracing the Catholic faith or embracing a false religion doesn't change your state of honor or respect in God's eyes at all.  This is heretical.  The Catholic Church teaches that a person baptized into the true Church becomes a child of God.  It results in a dramatic change in God's sight.  Not so, according to the apostate antipope Francis.  Francis condemns "religious beliefs" that promote violence and says that false religions which do not promote violence are "religions" worthy of God's name.  Francis is an apostate.
Francis' February 4, 2018 "reflection" during "the Angelus":

"I invite all the faithful to join me in a Special Day of Prayer and Fasting for Peace on 23 February, the Friday of the First week of Lent. We will offer it in particular for the populations of the Democratic Republic of Congo and of South Sudan. As on other similar occasions, I also invite our non-Catholic and non-Christian brothers and sisters to join in this initiative in the ways they believe best, but all together."[2]
The apostate Francis asks non-Catholics and "non-Christian brothers and sisters" to join "together" with him in "prayer and fasting".
Notes:
[1] L' Osservatore Romano, February 9, 2018, p. 4.
[2] L' Osservatore Romano, February 9, 2018, p. 12.
Sign up for our free e-mail list to see future vaticancatholic.com videos and articles.