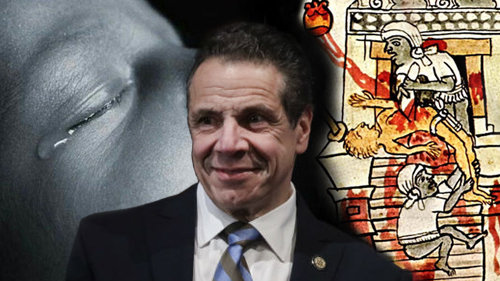 Andrew Cuomo is like a suit-and-tie wearing, modern version of the satanic Aztec architect Tlacaellel [15th century] who oversaw a system of human sacrifice.  Both are demonic spiritual terminators with no regard for human life.  To read more about the demonic Aztec culture, see the article below.
"Tlacaelell decided that this central temple should be dedicated with the greatest mass sacrifice of his fifty-eight years of dominance in the Aztec empire.  As always, he had his way.  In R.C. Padden's memorable description: 'Well before daybreak of the opening day, legionnaires prepared victims, who were put in close single file down the steps of the great pyramid, through the city, out over the causeways, and as far as the eye could see.  For the average person viewing the spectacle from roof top, it would appear that the victims stretched in lines to the end of the earth."
Andrew Cuomo is one of the most evil men in America.  He is an automatically excommunicated demonic abomination who is headed for a mind-boggling punishment after death in the never-ending lake of fire.
Some facts about New York's new abortion law, signed and celebrated by Andrew Cuomo:
"Andrew Cuomo ordered that the spire of the One World Trade Center be lit pink. The reason why? To celebrate the passage of a new law that radically liberalizes abortion in New York State – in some cases allowing abortion up until the moment of birth, permitting non-doctors to perform abortions, and removing recognition of preborn babies older than 24 weeks as potential homicide victims…

New York's abortion rate is already double that of the national average. According to the New York State Department of Health, 285,127 induced abortions were committed in the state between 2012 and 2014. In that same period, there were only 237,499 live births. In other words, there were twenty percent more abortions than live births in those three years….

The new law will almost certainly permit the indescribable barbarity of late-term abortions to take place with increasing frequency in New York – the painful scalding of babies to death with saline solutions, or the administration of lethal injections and the cruel dismemberment of sometimes-still-living babies…

And if by any "accident" any such late-term babies should survive the abortion process – as happens far more often than the abortion industry would like us to know – the new law ensures that news of any such slip-up almost certainly won't see the light of day by revoking the requirement that a second physician be present during late-term abortions. As the New York State Right to Life Committee lamented, this provision effectively has the effect of "authorizing infanticide." (Lifesitenews.com)
"Catholic" Cuomo ordered tallest building in America to be lit up in pink to "celebrate" abortion "law" – 25 second video
The evil Andrew Cuomo also is trying to impose 'transgender' abominations on the people.
"Days After Enshrining 'Right' To Kill Preborn, NY Governor Signs Bill Making 'Gender Identity' Discrimination Illegal"
Cuomo approved a law that will "prohibit employers, landlords and educational institutions from discriminating against individuals on the basis of their gender identification, in addition to the other classes.  Unfair treatment will be considered an 'unlawful discriminatory practice.'

Employers may not 'refuse to hire or employ or to bar or to discharge from employment such individual or to discriminate against such individual in compensation or in terms, conditions or privileges of employment' based on their gender identity or expression."
Cuomo ("Catholic" in good stand with the Vatican II Sect) passes "law" that removes protections for babies that survive abortion killing procedure
"New York cardinal: Excommunicating pro-abortion politicians 'not an appropriate response'"
"Catholic" Cuomo "expected to sign" very soon "historic bills" passed by (Democratically controlled) NY Legislature against "transgender" discrimination and "gay" conversion therapy – 38 second video
"Many primitive peoples have practiced occasional human sacrifice and some have practiced cannibalism.  None has ever done so on a scale remotely approaching that of the Aztecs.  No one will ever know how many they sacrificed; but the law of the empire required a thousand sacrifices to the Aztec tribal god Huitzilopochtli in every town with a temple, every year; and there were 371 subject towns in the Aztec empire…

"Every Aztec city and large town had a central square, from which a high pyramidal temple rose, and four gates opening upon four roads approaching the town in straight lines extending at least five miles, each ending at one side of the pyramid temple… Month after month, year after year, in temple after temple, the sacrificial victims came down the roads to the steps, climbed up the steps to the platform at the top, and there were bent backwards over large convex slabs of polished stone by a hook around the neck wielded by a priest with head and arms stained black, never-cut black hair all caked and matted with dried blood, and once-white garments soaked and stained with innumerable gouts of crimson.  An immense knife with a blade of midnight black volcanic glass rose and fell, cutting the victim open.  His heart was torn out while still beating and held up for all to see, while his ravaged body was kicked over the edge of the temple platform where it bounced and slithered in obscene contortions down the steps to the bottom a hundred feet below.  Later, the limbs of the body were eaten…

"The early Mexican historian Ixtlilxochitl estimated that one out of every five children in Mexico was sacrificed… An almost universal symbol in Mexican religion was the serpent.  Sacrifices were heralded by the prolonged beating of an immense drum made of skins of huge snakes, which could be heard two miles away.  Nowhere else in human history has Satan so formalized and institutionalized his worship with so many of his own actual titles and symbols." (Warren H. Carroll, Our Lady of Guadalupe and the Conquest of Darkness, pp. 8-11)
Sign up for our free e-mail list to see future vaticancatholic.com videos and articles.