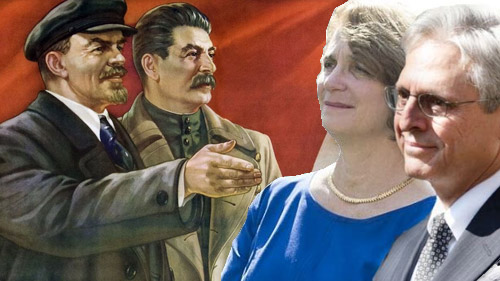 "Attorney General Merrick Garland's wife is heavily connected to those running the 2020 Election and attempting to prevent audits of the 2020 Election. Her prior work with defense contractor E-Systems is even more suspicious.
Crooked US Attorney General, Merrick Garland, has a son-in-law who's pushing racist CRT around the country and likely making millions doing so. This is the same stuff that parents are fed up with and don't want to be taught to their children.
Then we uncovered on Friday the fact that Biden's Attorney General Merrick Garland's wife is heavily connected with all the far-left players involved in the 2020 Election and those who attempted to stop any audits of that election.
In addition to these obvious conflicts of interest by the corrupt AG, we've uncovered more on the potential conflict involving his wife Lynn Garland.
According to the New York Times:
Mrs. Garland, who graduated from the Brearley School and cum laude from Harvard University, received a Master of Science degree in operations management from the Sloan School of Management at the Massachusetts Institute of Technology. She is a staff assistant to the vice president in charge of operations for the Melpar division of E-Systems Inc., a defense electronics contractor in Falls Church, Va.
We now wonder what type of work Ms. Garland was involved with at E-Systems. E-Systems is a defense contractor with operations that are highly classified. 60-Minutes attempted to find out more about the company E-Systems. Steve Kroft investigated the Fortune 500 company that operates in almost total secrecy, spying on everyone from dictators to drug lords to terrorists with cutting-edge optical and listening devices in February 1995."
Sign up for our free e-mail list to see future vaticancatholic.com videos and articles.