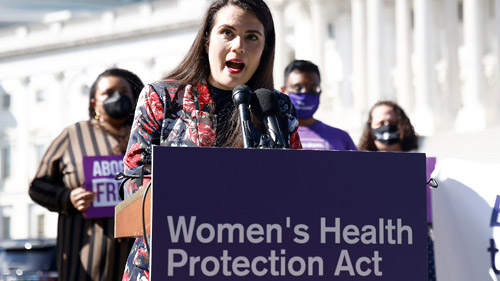 Abortion is a Jewish value, and the US House of Representatives' vote to pass the Women's Health Protection Act (WHPA) is a crucial step in protecting abortion rights across the US, National Council of Jewish Women CEO Sheila Katz said on Friday.
The House approved legislation on Friday to protect abortion services against growing Republican-backed state restrictions, including a Texas law that imposes a near-total ban on abortion, but it is unlikely to pass the Senate.
In addition, Texas Governor Greg Abbott on Friday signed a new law that restricts access to abortion-inducing medications, just weeks after the state rolled out a near-total ban on abortion procedures.
The law on medications prohibits mail-order abortion-inducing drugs and says doctors in the state are only allowed to prescribe them up to seven weeks after conception. Previously that restriction was set at 10 weeks.
"Texas continues to lead the way in protecting unborn children and fostering a culture of life," Abbott said in a written statement. "We have taken monumental steps to save babies from the ravages of abortion."
The progressive NCJW views the values of Judaism as a call to do the opposite.
"As Jews, we recognize abortion as essential health care, that is not only permitted but in some cases, required by our tradition," Katz said in a statement. "We celebrate the House of Representatives' passage of WHPA which moves us closer to ensuring that all people have access to the full range of reproductive options, including abortion, in line with their values and faith tradition," she said.
Sign up for our free e-mail list to see future vaticancatholic.com videos and articles.