operationrescue.org For the third time this year, one of LeRoy Carhart's abortion patients were rushed to Shady Grove Hospital (SGH) in Maryland for emergency treatment after a late-term abortion.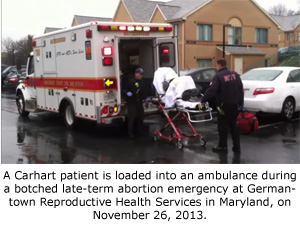 On Tuesday at 11:45 a.m., an ambulance arrived at Germantown Reproductive Health Services and loaded a women for transport to the SGH emergency room. Sources inform Operation Rescue that the women underwent emergency surgery at the hospital. Video taken by a local pro-life activist showed a woman covered head-to-toe in a sheet and that neither Carhart nor any of his staff accompanied the injured woman from the clinic to the ambulance. On July 9, 2013, another Carhart patient was transported to Shady Grove Hospital suffering from hemorrhaging, according to 911 records obtained by Operation Rescue which published a video showing Carhart escorting his injured patient to the ambulance. But the most tragic incident occurred in February when 29-year old Jennifer Morbelli died after a 32-week abortion done by Carhart, who left town immediately completing the abortion and was unavailable to Morbelli as her condition worsened. Hours later, Morbelli was taken by her family to Shady Grove Hospital where she died. The Maryland Board of Physicians tragically refused to hold Carhart responsible for patient abandonment even though he has no hospital privileges and informed Morbelli to return only to the abortion clinic in the event of complications. to read more click here: operationrescue.org
Sign up for our free e-mail list to see future vaticancatholic.com videos and articles.