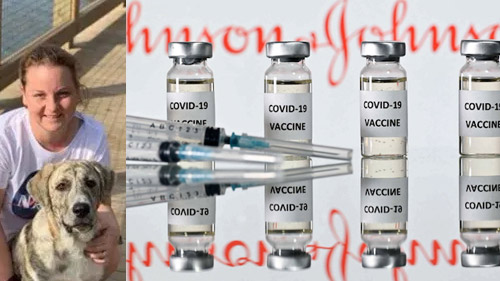 "The family of a Michigan woman says she died as the result of complications 11 days after receiving the Johnson & Johnson (J&J) COVID vaccine.
Anne VanGeest, 35, died April 19 at Mercy Health Saint Mary's hospital in Grand Rapids from an acute subarachnoid brain hemorrhage, FOX 17 reported.
'It is with profound sadness that we share the news of Anne's passing Anne (Annie), who was 35, was a loving mother, wife, sister and daughter,' the family said in a statement provided by Lambert, a Grand Rapids public relations firm that is providing its services to the family pro bono.
VanGeest received the J&J shot on April 8, five days before the Centers for Disease Control and Prevention (CDC) paused the vaccine to investigate reports of potentially dangerous blood clots in women who received the shot.
VanGeest's family said her headache started on April 16 — eight days after being vaccinated. She died three days later. Her death certificate notes a natural death, specifically from an acute subarachnoid hemorrhage, or bleeding between the brain and tissue around the brain...
VanGeest's physician filed a report to the CDC's Vaccine Adverse Event Reporting System (VAERS).
In an email to the VanGeest family, the CDC confirmed her death had been reported to VAERS, but said the system is not designed to determine whether a reported adverse event was caused by the vaccine.
'When VAERS receives reports of serious illness or death after vaccination, VAERS staff contact the hospital where the patient was treated to obtain the associated medical records to better understand the adverse event,' the CDC said.
According to the CDC website, 'the CDC follows up on any report of death to request additional information and learn more about what occurred and to determine whether the death was a result of the vaccine or unrelated.'
The Defender has repeatedly reached out to the CDC since March 8 to determine how investigations into reported deaths are conducted, but have yet to receive a response."
Sign up for our free e-mail list to see future vaticancatholic.com videos and articles.