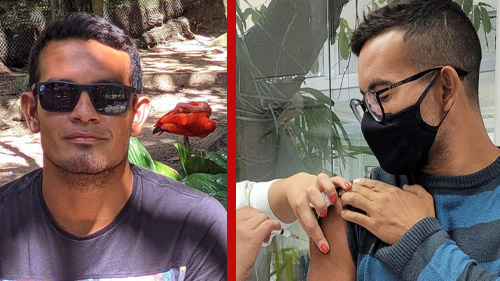 "A 32-year-old Brazilian competitive diver is dead, as near-term antibody dependent enhancement (ADE) deaths and maimings continue claiming lives across the globe.
Mr. Ian Matos, full name Ian Carlos Gonçalves de Matos, received one of the experimental COVID-19 'vaccines' on August 4, according to his Instagram page. 'Moment of pure joy' is the caption translation.
It's unclear which injection he received or if it was the first or second (or third) injection...
Mr. Matos checked into a hospital sometime in late October...
He'd been in the hospital ever since. Mr. Matos' condition worsened on Wednesday, to the point that doctors could do nothing else for him. He passed away on December 22. No further details are available.
The 2016 Summer Olympics were the pinnacle of Mr. Matos' athletic career. He and diving partner Luiz Outerelo finished eighth out of eight teams in the men's synchronized three-meter springboard event. Mr. Matos also won three bronze medals at the 2010 South American Games in Medellin, Colombia. But Mr. Matos was mostly known for "coming out" as homosexual in 2014...
We've referenced the survey by the pro-homosexual Human Rights Campaign (HRC) several times. It found that 92% of U.S. LGBT people have received at least one injection. It's safe to surmise that this rate is consistent across the globe with this group."
Sign up for our free e-mail list to see future vaticancatholic.com videos and articles.