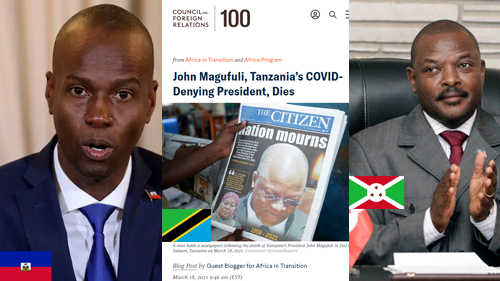 "The presidents of three different nations have ended up dead shortly after denying distribution of the experimental COVID-19 shot.
After their deaths, all three countries are now distributing COVID jabs to their citizens.
The latest was Haitian President Jovenel Moise, who was assassinated at his home in Port-au-Prince last week by a group of mercenaries.
Haiti had declined the AstraZeneca vaccine from the World Health Organization's (WHO) Covax Facility in May, citing widespread side effects reported in Europe.
This made Haiti the only country in the Western Hemisphere not to accept the COVID shot.
Days after Moise's murder, White House press secretary Jen Psaki announced the U.S. would be sending COVID vaccines to Haiti, in addition to $5 million in aid and a team of FBI agents 'as early as next week.'
Burundi President Pierre Nkurunziza was the next to recently die, from cardiac arrest in June.
Burundi's health minister declined the vaccines in February, claiming that 'since more than 95% of patients are recovering, we estimate that the vaccines are not yet necessary' in the African nation.
In March, Tanzanian President John Magufuli had also died of a 'heart ailment.'
Magufuli infuriated the medical establishment when he denied the COVID vaccine in his country, urging instead for citizens to 'pray coronavirus away.'
Magufuli also mocked the efficacy of the PCR tests, by showing how a goat and a paw paw fruit both tested positive for COVID-19.
Months after his death, Tanzania put in an order to the WHO for a shipment of COVID vaccines for its 60 million citizens.
Is it just a coincidence, or do all these high-profile deaths appear to have a profitable result for Big Pharma and the globalists?"
Sign up for our free e-mail list to see future vaticancatholic.com videos and articles.