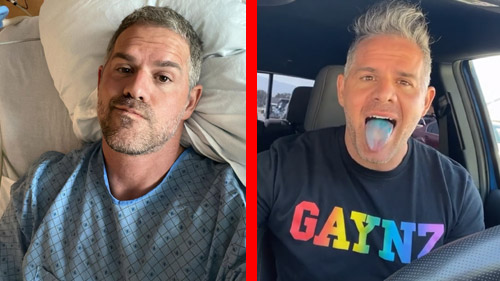 "A 41-year-old 'proudly queer' fitness model and bodybuilder is accepting that his days spending hours in the gym are likely over, which also means his career is over.
Mr. Eric Turner told his 1.7 million Facebook followers on April 20, 'I'll be fully vaccinated in mid-May, and ready to shoot.' That implies that he'd already received one mRNA injection and was awaiting the second one...
It started on July 15 when Mr. Turner regurgitated mainstream media propaganda about the so-called 'Delta variant.' He ended the tweet with an all-caps 'GET VACCINATED.'
Mr. Turner then blamed the so-called variants on non-vaccinated people and advocated for wearing masks in perpetuity as a result.
At least one Twitter user called him out for wishing death upon those who disagree with him.
Mr. Turner, on September 8, equated children not wearing masks in schools to children being gunned down by shooters in schools.
Another disturbing tweet on September 10 equated abortion with children not wearing masks in schools.
Mr. Turner posted yet another nude photo of himself on November 8 at 7:39 a.m. with the caption, 'I'd rather wear a barrel than conservative apparel.' Eight hours later, he posted a photo of himself in a hospital bed. He thought the problem was some sort of temporomandibular joint disorder (TMD) because he felt pain in his jaw bone. But doctors told him he had a heart attack. Mr. Turner said doctors were 'baffled' because he believes his heart is very healthy...
Four days later, on November 12, Mr. Turner posted an update. He conceded that his life is 'changed forever' after doctors diagnosed him with a spontaneous coronary artery dissection. That means the thin layers making up the arterial walls of the heart separated, causing blood to seep between said layers. Blood accumulates between the layers, causing clot-like blockages...
Doctors have no idea how to treat the condition because it's so rare. Mr. Turner enrolled in several clinical studies to try out experimental treatment in hopes of making himself better. He likely would have died within days if the jaw pain didn't lead him to an urgent care facility."
Sign up for our free e-mail list to see future vaticancatholic.com videos and articles.