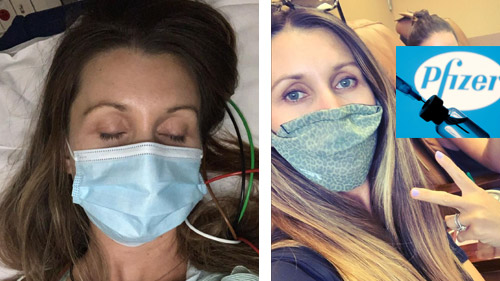 LAHAINA, HAWAII — A 35-year-old medical esthetician and single mother of two young boys is desperate for answers and learning the hard way that doctors are not her allies.
Ms. Stephanie Evans received her first Pfizer mRNA injection on August 29, according to documents published on Instagram. She believed it was the "right thing to do," but also did it because of social pressure. A week later, she suffered from severe chest pain and shortness of breath. The pain worsened the following week, to the point that Ms. Evans believed she was having a heart attack.
She checked into an emergency room in mid-September believing the people in white coats would help her. Doctors told Ms. Evans it was not a heart attack. They also tested her for "illicit drugs" because she told them about the Pfizer injection. They believed she was high and crazy to connect the lethal injections to her chest pain. She was discharged with only humiliation and no treatment.
Ms. Evans said the pain and shortness of breath was so severe at this point that she contemplated "giving up." But because of her two young boys, she had to continue fighting...
Ms. Evans finally revealed the full truth on November 8. She posted a photo of herself in the hospital. "I have been suffering with Pericarditis (an adverse effect) from the Pfizer vaccine," she wrote. She's now unable to work, run, hike, or play with her kids. Her mother apparently moved in with her because she "need[s] help 24/7." Ms. Evans believed the mainstream media, CDC and Fauci narrative that myocarditis and pericarditis are essentially paper cuts that go away overnight.
"This is not healing the way I thought it would. It taking much longer," she wrote. Ms. Evans is taking several anti-inflammatory medications. But they are providing little to no relief. She's also tried natural remedies, to no avail. But Ms. Evans concluded, "I'm still here and fighting until I can heal."...
Though too little, too late, a doctor provided a medical exemption for the second injection.
Sign up for our free e-mail list to see future vaticancatholic.com videos and articles.