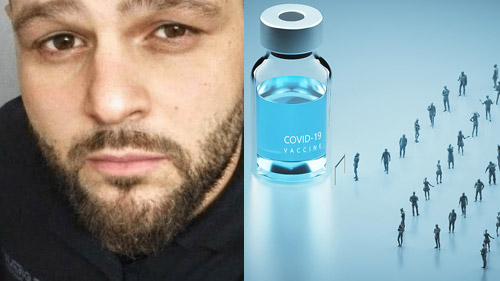 Mr. Joseph Mishkin.
MIAMI — A 35-year-old single father is dead because society and his employer coerced him into self-poisoning in order to feed his family.
Mr. Joseph "Joey" Mishkin received his first Pfizer mRNA injection on October 1, according to his aunt, Renée Grossman. He got the shot because of an ultimatum from his employer. The next day, Mr. Mishkin suffered sudden cardiac arrest (heart stopped beating) while hanging around the pool at his newly-purchased home. Paramedics were able to get his heart pumping again upon arrival at the scene. But his heart stopped again in transit to the hospital.
Doctors placed Mr. Mishkin on a ventilator that night. It kept him "technically" alive for several more days. But the damage was done from all the heart stoppages and lack of oxygen to his brain and other organs. Mr. Mishkin passed away on October 12....
Mr. Mishkin was a lighting technician at Frost Florida, an event production studio. He'd been with the company since March 2019. But after almost three years working for the company, Mr. Mishkin was forced to receive experimental injections or lose his job...
The GoFundMe page makes no bones about what happened: "Joseph was a victim of the vaccine." His two children are also victims of the vaccine as they are completely traumatized by the sudden loss of their father, according to the GoFundMe page.
Mr. Mishkin is also survived by both parents, a sister, two step-sisters and his fiancée.
Sign up for our free e-mail list to see future vaticancatholic.com videos and articles.